More info
With the installed, 2S or 3S compatible Spektrm Firma 3200Kv brushless motor, the VORTEKS is fast right out of the box. Using a 3S LiPo battery and an optional pinion gear, it easily becomes the first ARRMA 4X4 3S BLX model capable of 100km/h and more!
The proven tough ARRMA 4X4 platform lets you bash at high speeds in almost any environment — off-road, on dirt and grass, on parking lots and over paved and asphalt surfaces. Its durability comes from a strong composite chassis featuring extended height dirt defenders, oil-filled shocks with silicone O-rings, metal geared differentials and more. Rugged bumpers and high-traction dBoots Katar tires mounted on tough, gun-metal colored wheels add to its unstoppable performance. The VORTEKS 4X4 3S BLX also includes a sleek, new stadium truck body with tough, injection-molded wing and protective roof skids.
ARRMA adds the security of advanced Spektrum electronics to the VORTEKS Stadium Truck's speed and toughness to create a totally exhilarating bashing experience. With its included DX3 DSMR 2.4GHz radio system, SR6200A receiver and Firma 100A ESC, this is the first ARRMA 1/10 scale 4X4 model to provide the benefits of AVC(Active Vehicle Control) and Smart technology straight out of the box.
With the AVC system's on-demand traction control, you can dial-in extra stability as needed to carve corners or nail jumps without backing off the power. You have full-throttle freedom over rough terrain, slick surfaces and loose dirt. When you don't want the extra traction, just dial back the stability. The DX3 radio's AVC system works behind the scenes, making hundreds of  steering and throttle adjustments per second to keep the VORTEKS Stadium Truck precisely on the line you want to hold.
Download the optional Spektrum Dashboard app to your mobile device — it's available in the iPhone App Store and Google Play — to take full advantage of the Smart electronics' telemetry capabilities. Once you connect your mobile device wirelessly via Bluetooth to the VORTEKS Stadium Truck's DX3 transmitter, you can use it to view top speed, battery voltage and other essential data in real time (requires an optional BT2000 Bluetooth Module, available separately).
The ARRMA VORTEKS 4X4 3S BLX Stadium Truck RTR represents the highest level of speed and technology found yet in the proven tough ARRMA® 4X4 platform. If you're a basher who wants the best — and who appreciates outstanding value — it's all right here.
Strong composite chassis
Features that contribute to the 4X4 3S BLX platform's unstoppable performance include a stronger composite chassis and retained hinge pin plates; steering with more clearance for stones; castellated slipper pads and sliding gear mesh and rubber-shielded bearings throughout. Extended height dirt defenders limit the amount of dirt and debris that can get into the chassis tub. Front and rear bumpers offer defense against impacts.
Convenient modular design
The VORTEKS 4X4 3S BLX Stadium Truck RTR incorporates the signature ARRMA easy-access modular design. Separate, easily removable chassis modules for the power system, electronics and differential components make routine maintenance fast and simple. The power module can be detached from the chassis as a complete unit by removing just one screw. With the power module removed, the slipper clutch can be easily reached for servicing by taking out three screws that attach the gear cover.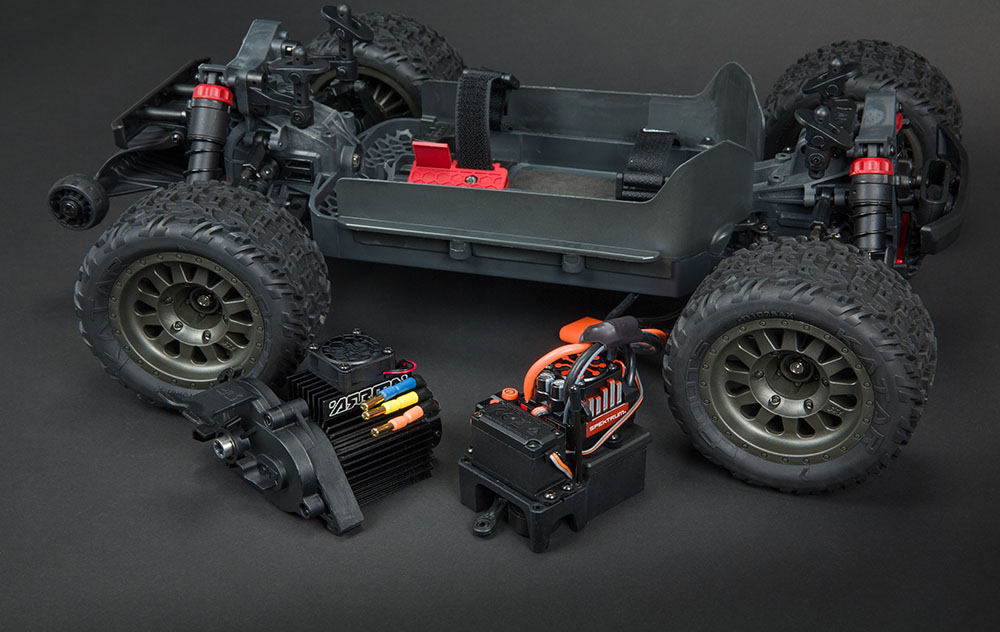 Electronics module
A two-piece molding screwed to the VORTEKS Stadium Truck's chassis serves as its electronics module, containing a waterproof receiver box, servo mount and ESC tray.
Differential module
The differential module houses each differential unit in an innovative yoke design. Only eight screws need to be removed to release the front and rear yokes. The power module can then be detached, allowing you to pivot the gearbox cases for differential access.
Wheels and tires
Multi-surface, vented dBoots Katar tread tires are mounted to tough, gun-metal color nylon wheels. The tires provide aggressive grip and easy handling characteristics in all conditions and are made of high-quality rubber for long-lasting durability.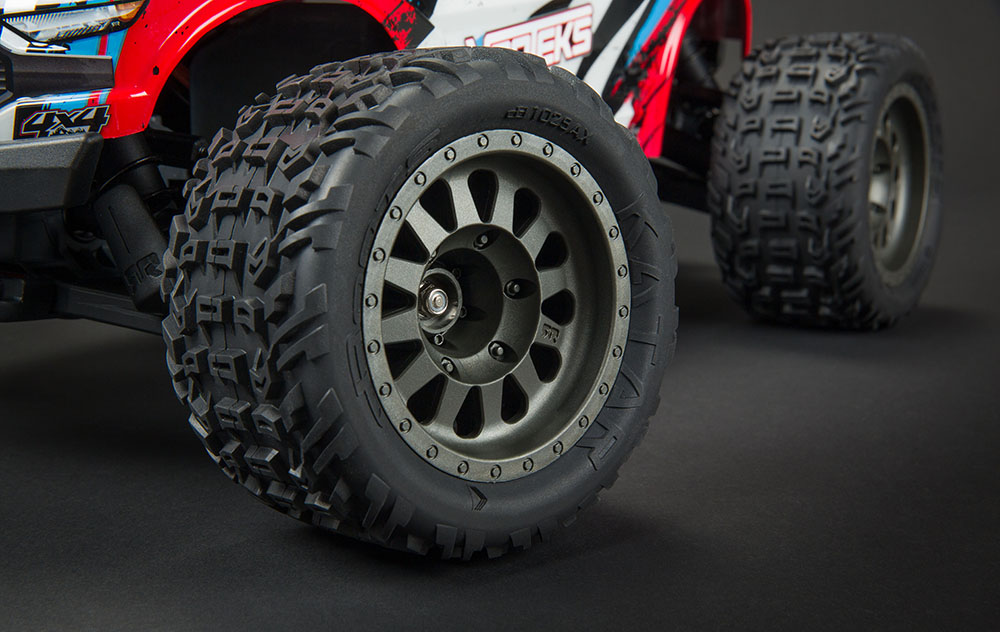 Stadium truck body
The sleek stadium truck body features a tough, injection-molded rear wing and protective roof skids. It's available in your choice of three exciting color combinations. Front and rear bumpers protect against impacts and a wheelie bar provides stunt potential.
Spektrum radio and electronics
A first for any ARRMA 1/10 scale 4X4 RTR, the VORTEKS Stadium Truck includes Spektrum radio equipment with telemetry-capable Smart Technology plus AVC on-demand traction control for extra stability when you need it.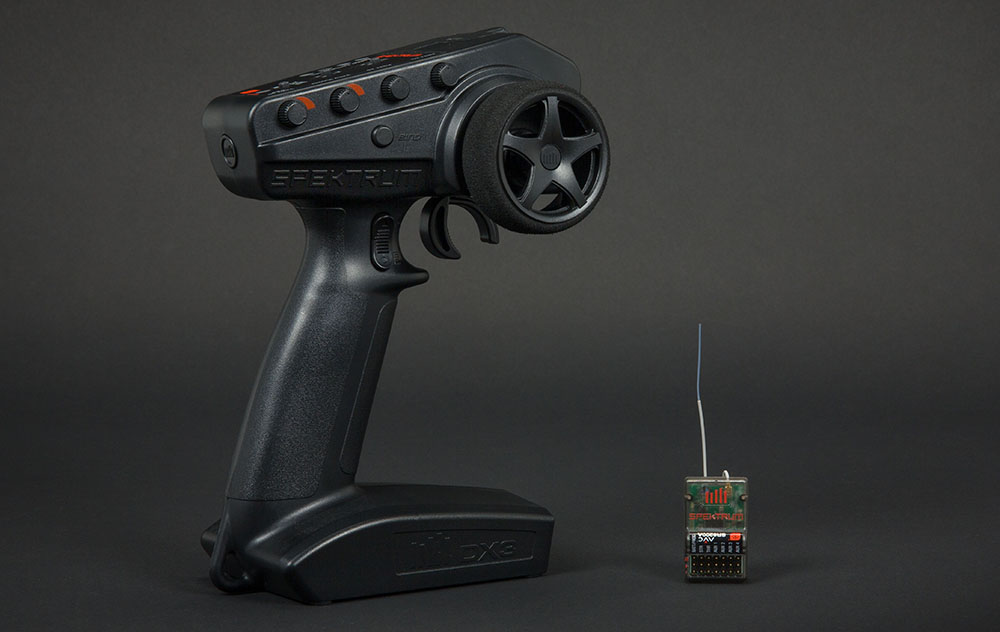 Oil-filled shocks
The self-bleeding, oil-filled shocks with silicone O-rings use a tried and tested, coil-over design for simple maintenance and amazing handling. Their innovative rod-end has a molded-in spring perch for extra toughness.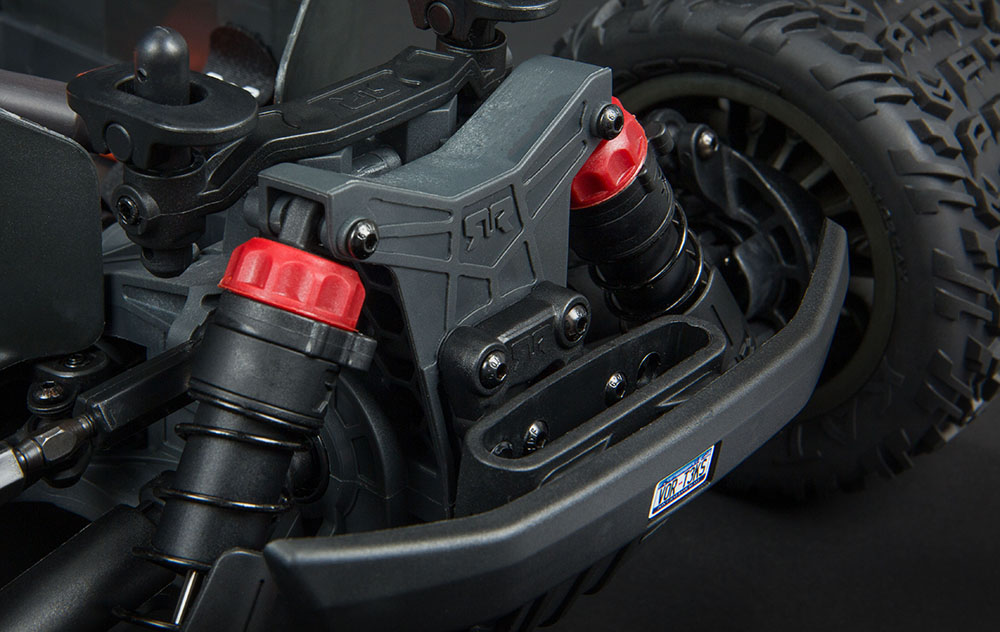 Key features
Strong Composite Chassis
Convenient Modular Design
Multi-surface, vented dBoots Katar tread tires
Durable 37T 1.35 module metal differential gears and silicone O-rings
Double wishbone suspension front and rear
Specifications
| | |
| --- | --- |
| Approximate Assembly Time | No assembly required |
| Ball Bearings | Full set, rubber shielded |
| Battery | Sold Separately |
| Body | Painted, decalled and trimmed |
| Brakes | Integral with ESC |
| Chassis | Molded Composite |
| Completion Level | Ready-To-Run |
| Differential | 2 Gear Diffs |
| Drivetrain | 4WD |
| Final Drive Ratio | 9.03 |
| Power Type | Electric |
| Gear Pitch | 0.8m |
| Internal Gear Ratio | 2.85 |
| Motor Type | Brushless - Sensorless |
| Pinion | 18T |
| Height | 163 mm |
| Length | 470 mm |
| Weight | 2.95kg |
| Width | 338 mm |
| Radio | Included |
| Receiver | Included |
| Scale | 1/10 |
| Servos | Included |
| Shock Type | Oil-Filled, Coil-Over Springs |
| Speed Control | Included |
| Spur Gear | 57T |
| Suspension | Independent |
| Vehicle Type | Stadium Truck |
| Wheelbase | 287 mm |
Data sheet
Manufacturer :

Arrma

Scale :

1/10

Type :

Ready to Run

Drive :

Electric Brushless
What you need to complete
2S or 3S Hardcase LiPo Battery (Maximum dimensions156x51x48mm. Minimum battery specs 5000mAh 50C)
Compatible Charger
(4) AA Batteries
LiPo Safe Charging Bag
Composition Kit
ARRMA VORTEKS 4X4 3S BLX 1/10 Scale 4WD Electric Stadium Truck RTR
Spektrum Firma 100A Smart Waterproof ESC
Spektrum Firma 3660 3200Kv Brushless Motor
Spektrum 2.4GHz DX3 Smart DSMR 3-Channel Transmitter
Spektrum SR6200A AVC Receiver
Spektrum SPMS651 7kg Waterproof Metal-Geared Digital Servo
23T Spline servo saver
Product Manual
VORTEKS 4X4 3S BLX 1/10th Stadium Truck (Red)
429,99 €
Viewed products
MCM undertakes
Deliver within 24/48h
To send your order within 24h (on working days) (according to the limit of the available stock) & to deliver within 24/48h.
MCM Crew
A team of specialists is at your disposal in your language (Fr, Du & En) from Tuesday till Saturday at + 32 2 376 24 05 (No. non-premium rate) from 10:00 to 18:30 or by email.
A few figures
A store of 400m² located south of Brussels.
25 years of experience.
+ 110 000 products ref.
+ 35 500 products in stock.
+ 240 distributed brands.
MCM Group, the R/C specialist since 1996
MCM Racing, MCM Skyshop, MCM Slot, MCM Marine