More info
The all-new Hoss 4X4 VXL unleashes extreme monster truck fun with the power and speed only Traxxas can deliver. Grab a fistful of throttle and the huge Velineon 540XL motor delivers a massive torque punch to wheelie on command, and then keeps pouring on the thrust for a 95+ KM/H top speed. The Torque Biasing Center Drive and heavy-duty shaft-driven 4WD system transfers maximum power to the ultra-aggressive Sledgehammer tires. It's built to absolutely shred any terrain, from dirt and sand to mud and snow. Pitch Hoss hard and fast into a turn and Traxxas Stability Management goes to work behind the scenes to help keep you solidly on track while you're blazing new trails. Non-stop fun and performance always come first, so Hoss stays true to the Traxxas heritage of rugged strength and durability which is engineered into every component. Drive harder, go faster, hang tougher— Nothing stops the Hoss!
540XL Torque
For those who believe "there's no replacement for displacement," Traxxas has built a monster truck for you. The new Hoss 4X4 VXL packs the same Velineon 540XL brushless motor found in the Maxx extreme monster truck. It's the largest motor we've ever offered in a truck this size. The Velineon VXL-3s speed control rolls out the power smoothly utilizing large 6.5 mm connectors and an integrated cooling fan for fast, reliable fun.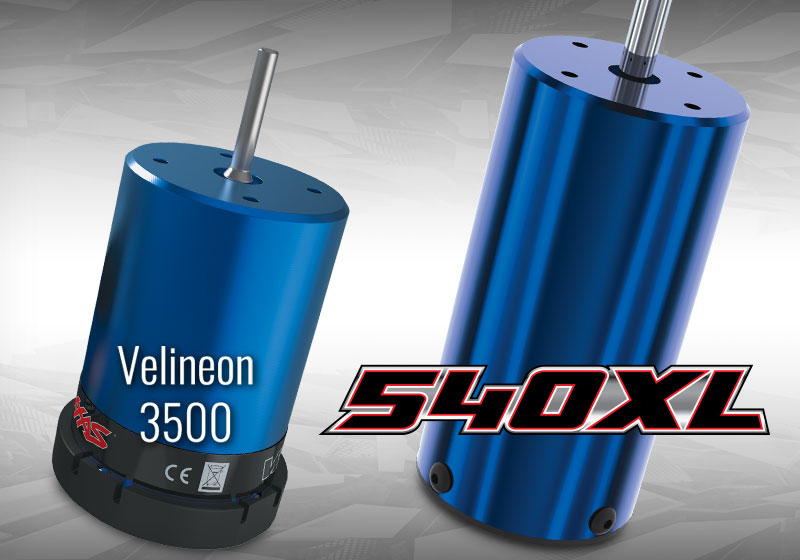 Extreme Sledgehammer grip
The Hoss VXL 4X4 relies on huge Sledgehammer tires to put its massive torque to the ground. The 5.3-inch tall Sledgehammers lift the Hoss skyward for superior ground clearance and a menacing stance. The open-block tread design clears away mud and debris for unrivaled traction on loose surfaces. Sledgehammer tires come pre-glued with performance foam inserts and they're TSM-rated for speeds of 95km/h and beyond!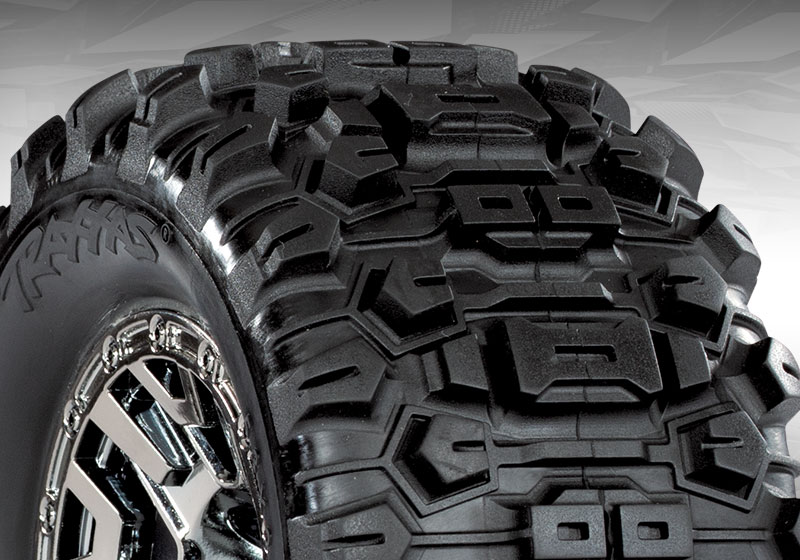 Rock-solid drivetrain
A conventional 4-wheel drive system may work for your average RC truck, but average isn't in the Traxxas vocabulary. We pored over every inch of the Hoss' drivetrain, strengthening critical areas to handle the 540XL's immense power. A Torque-Biasing Center Drive outfitted with a steel spur gear replaces a traditional slipper clutch along with a tough aluminum center driveshaft and beefed-up extreme-duty axles. The resulting Hoss drivetrain is a model of both efficiency and brute strength.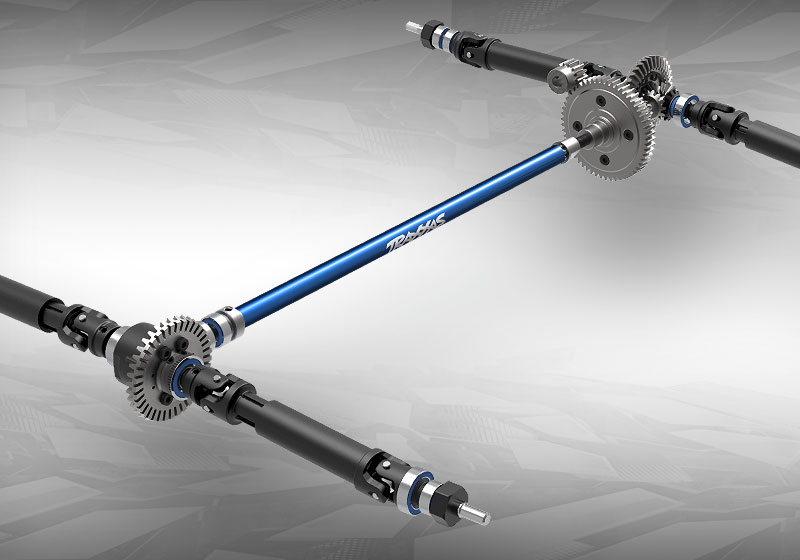 Innovation
Traxxas uses technology and innovation to deliver a fun and exciting RC experience with more power, speed, and convenience than you ever thought possible.
Body reinforcements
A tough internal cage structure supports the body, and outer reinforcements enhance the aggressive look. Roof and tailgate skids protects against wear-through from skidding, while reinforcements at the mounts prevent tear-through.
Waterproof electronics
Traxxas gives you the freedom to drive the Hoss on your terms, regardless of the weather. Thanks to Traxxas' patented innovative waterproofing solutions, water, mud, and snow won't slow down the Hoss 4x4. Drive where you want, when you want - the only limit is your imagination.
Wheelie bar
A wheelie bar is mandatory equipment to handle the Hoss' wheel-standing torque. Ride practically never-ending wheelies on pavement and keep the wheels-up action under control under hard acceleration. The integrated wheelie bar has the perfect amount of flex to absorb impacts on less-than-perfect landings. It also features a convenient handle to transport your Hoss to the next adventure.
TQi Radio system
The fully featured TQi 2.4GHz radio system delivers superior speed, precision, and control. It is Traxxas Link enabled so you can add the Traxxas Link Wireless Module (part 6511, sold separately) and connect wirelessly to the Traxxas Link app using your smartphone. The Traxxas Link app allows you to adjust your settings and view real-time telemetry with optional accessories.
Torque-biasing center drive
The torque-biasing center drive absorbs shocks to improve driveline durability. The center drive also distributes power to all four wheels for mind-bending four-wheel drive acceleration without the side effects of a typical center differential. Center fifferentials allow tires in the air to balloon uncontrollably, with the torque-biasing center drive allows wheelies off the line with seamless power distributed to all four wheels.
540XL Velineon motor and VXL-3S
Hoss 4x4 VXL's massive Velineon 540XL brushless motor is 25% longer than the standard 3500kV Velineon brushless motor for nearly limitless wheel-standing torque at your command. The waterproof VXL 3S-speed control delivers up to 11.1 volts of LiPo power through oversized 6.5mm connectors. The ESC is fan-cooled and packed with innovative convenience and safety features, making the VXL-3s as powerful as it is easy to use.
Traxxas stability management (TSM)
TSM works behind the scenes to help harness Hoss 4x4 VXL's extreme brushless power for maximum acceleration and ultra-precise control. Adjust the amount of assistance from off to 100% right from your transmitter.
Monster size
Hoss rides tall on large 5.3" Sledgehammer tires for that classic monster truck profule. With nearly 3 inches of center ground clearance, Hoss goes places other trucks can't. The long 295mm wheelbase increases high-speed stability. Short front and rear overhangs place bulk of Hoss' weight between the wheels for sharp turn-in response and improved handling.
Self-righting
Hoss 4x4 VXL uses Traxxas' patented self-righting feature to keep the fun going, even when you get carried away with the wheelies or land upside down. Simply press a button on the TQi transmitter and, in most circumstances, Hoss 4x4 VXL will be back on its wheels in just seconds and ready for more action.
Clipless body
The Hoss 4x4 VXL's rugged and innovative clipless body latching system delivers secure mounting and easy one-handed removal. Battery changes are fast and there are no body clips to keep up with. The internal body cage with integrated roof skid and tailgate protector strengthen the body for extra-long life.
Details
Our engineers evaluated every detail on the Hoss 4X4 VXL in order to build a truck strong enough to withstand the most punishing drivers on the toughest terrain.
Reinforced front and rear bumpers
Tough reinforced bumpers protect the chassis against impacts. The specially designed front bumper provides a high approach angle that allows the Hoss to climb up and over obstacles with ease. The rear bumper mounts a perfectly positioned wheelie bar to help prevent the Hoss 4x4 VXL from back-flipping under its explosive power.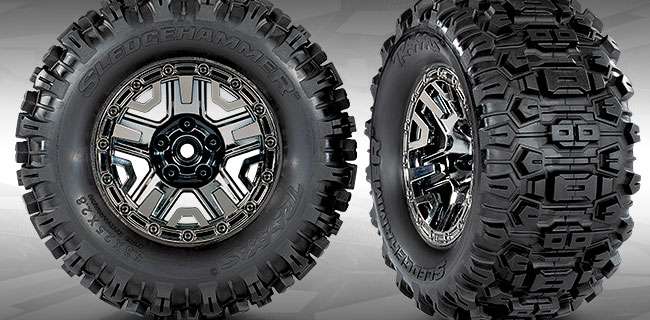 Sledgehammer tires and 2.8" black chrome wheels
Large 5.3" Sledgehammer tires combine excellent ground clearance with true mud-slinging fun. The open-block tread design claws into gravel, dirt and grass for sure-footed 4x4 traction on nearly any surface. The heavy-duty rubber compound is specially formulated to resist tearing and bonds exceptionally well to the aggressive black chrome wheels.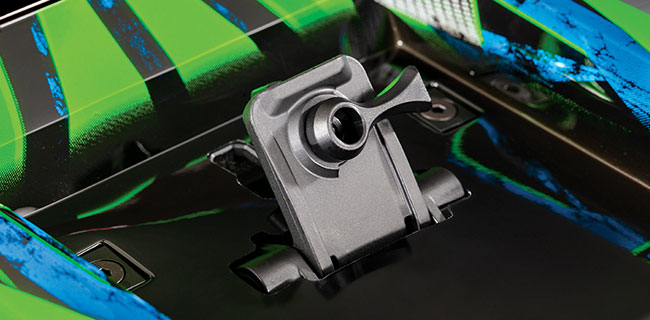 Secure body latch
Hoss' clipless ProGraphix body mounts on specially designed shock towers. The easy-to-use latch unlocks instantly with the quick swipe of a thumb and locks again with a noticeable detent to let you know it's securely fastened.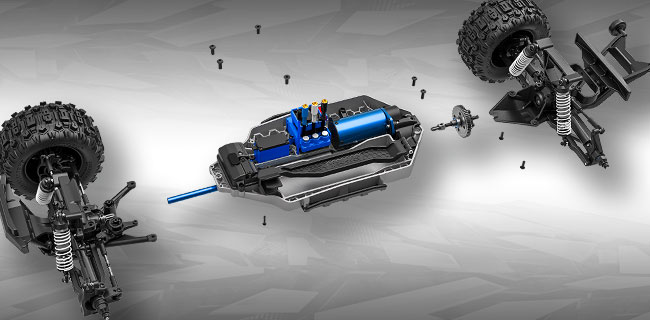 Modular chassis
The Hoss 4x4's modular design creates a chassis that's both strong and easy to maintain. The front and rear bulheads remove easily with just a few screws. In less than a minute using a power screwdriver, you'll have full access for easy service and adjustment.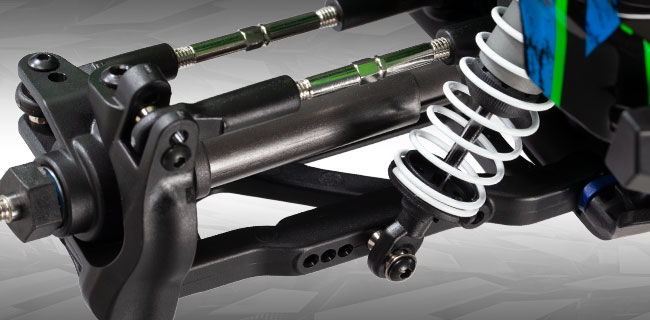 Heavy-duty composite arms
Molded from our toughest composite material, Hoss' heavy-duty suspension arms provide just the right amount of flex to resist breaking - even in cold weather! From skate parks to 3 meter high ramps, these heavy-duty arms stand up to even the most punishing drivers for non-stop fun behind the wheel.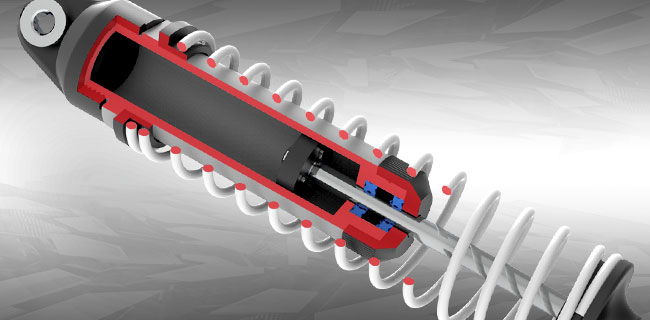 Ultra shocks
Oil-filled Ultra Shocks utilize dual X-ring technology for a perfect seal and silky-smooth performance. The large oil capacity and rugged design soaks up big jumps and off-road abuse for smooth driving performance. They are easy to tune with a wide range of available oils, springs and pistons.
5-channel receiver with Failsafe
The TQi 2.4GHz receiver stores up to thirty Traxxas Link enabled transmitters in memory. Integrated telemetry ports allow real-time data to transmit from your Traxxas model to the TQi transmitter. In the event of a signal loss, the receiver automatically returns the throttle to neutral and holds the last steering position.
Waterproof receiver box
The Hoss incorporates a waterproof receiver box in the nose of the chassis to save weight and provide a clean, high-tech appearance. The antenna and servo wires route neatly through a patented watertight seal to protect the receiver from water. No matter what the weather, Hoss 4x4 VXL is ready for action!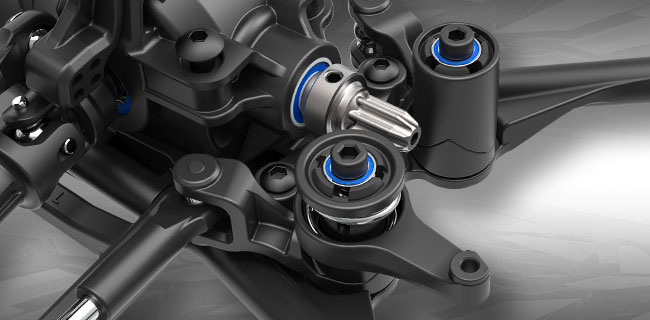 Optimum-geometry steering with integrated servo saver
A dual-bellcrank design pivots on rubber-sealed ball bearings for smooth action in the harshest conditions. The integrated cam-type servo saver protects the servo gears from crash impacts without sacrificing steering precision.
Digital high-torque waterproof steering servo
The Hoss' extreme speed and tall Sledgehammer tires require a steering servo that's both strong and durable. The waterproof 2075 digital high servo provides robust steering authority with ball bearings for precise control and quick reflexes.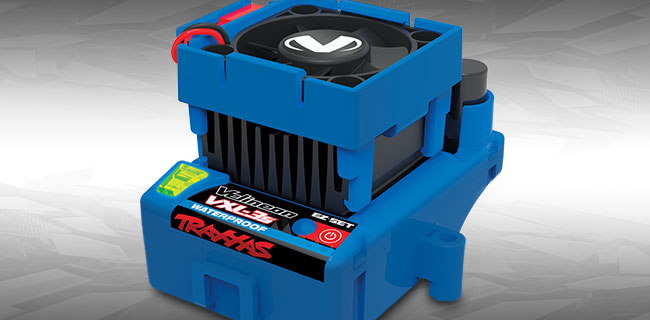 VXL-3s ESC with fan
The waterproof Velineon VXL-3S speed control is packed with technology to deliver maximum power. Large heat sink, integrated on/off switch, and three programmable drive profiles top the feature list. Two-stage low voltage detection allows full LiPo compatibility, including powerful 11.1-volt 3S packs!
Innovative battery hold-down
A rugged battery hold-down secures the battery safely in the chassis without flimsy straps or clips to lose. A beefed up latch provides solid locking action to keep batteries safe no matters how wild the action gets.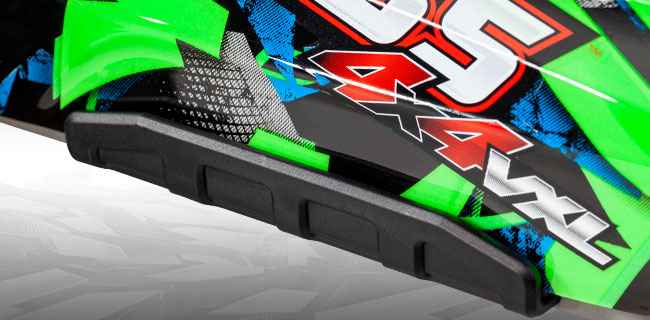 Chassis nerf bars
Rugged side nerf bars protects the chassis from rocks and other impacts. Special channels in the nerf bars support the sides of the body for a tighter, more secure fit.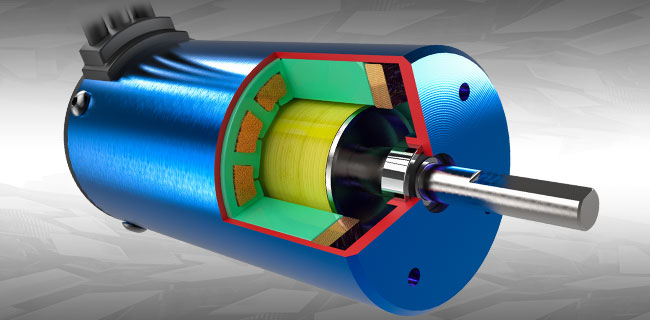 Velineon 540XL motor
A sensorless Velineon 540XL 2400kV motor delivers extreme performance with nearly zero maintenance. Ultra high-temperature Neodymium magnets, high-speed bearings, and a precision, 4-pole balanced rotor deliver smooth running and long life.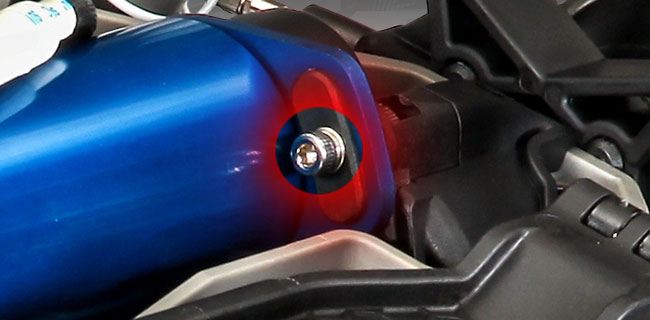 Fixed gear adapter
Fixed gear adapters take the guesswork out of setting your gear mesh. The fixed positioning keeps the gear mesh light, even after the harshest landings. The innovative motor mount keeps the 540XL motor locked firmly in place with just a single screw for easy maintenance.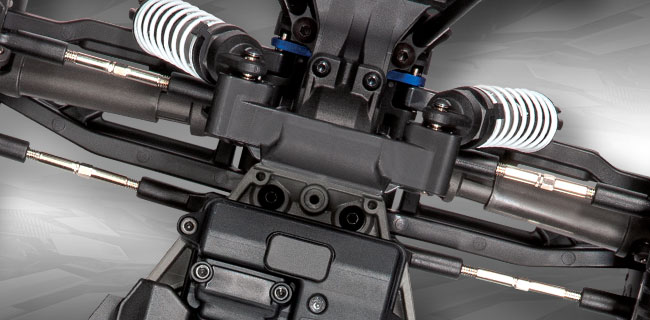 Heavy-duty 4mm turnbuckles
Hoss 4x4 uses the same heavy-duty steel 4mm turnbuckles developed for the Slash 4x4. Broad flat sections make toe and camber adjustments easy with the included wrench. The fully captured rod ends take a beating and won't pop apart during rigorous off-road pounding.
Extreme heavy-duty driveshafts
The Hoss' extreme heavy-duty driveshafts are modeled after the legendary Slash 4x4, but are beefed up in critical areas for even more outragous power handling. The larger diameter half shafts offer the same articulation and suspension travel, but are rated for even more tire-shredding torque.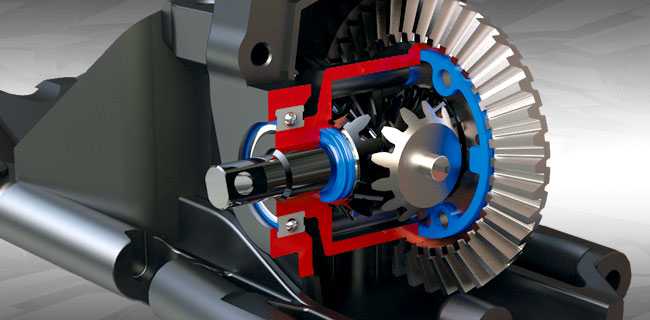 Steel-gear differentials
Heavy-duty front and rear oil-filled differentials utilize steel-gear internals for maximum durability. Silicone gaskets and X-ring seals allow you to tune the amount of locking action by varying the viscosity of the fluid inside the differentials.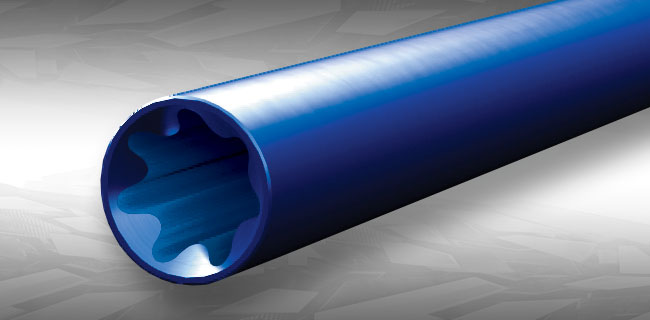 Extruded aluminium driveshaft
A one-piece extruded alumnium driveshaft is both strong and lightweight. Internal splines fit directly onto the input shafts of the front and rear drive assemblies. Altogether, this shaft runs straight and true for ultra-smooth driveline operation.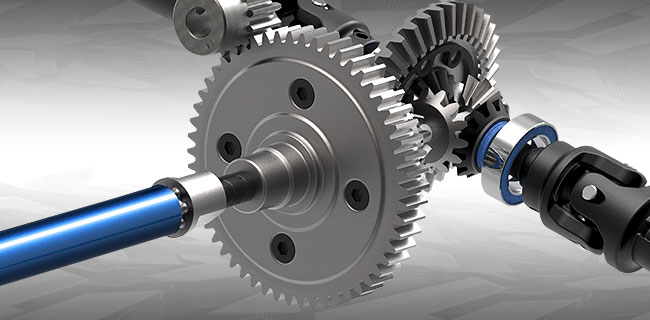 Heavy-duty steel spur gear
Designed from the start to handle big brushless horsepower, Hoss 4x4 VXL's driveline uses a rugged steel spur gear with large 0.8 module/32-pitch teeth for reliability no matter how much power you pour on.
Rubber-sealed ball bearings
Maximizing speed requires as little fraction as possible. Hoss 4x4 rides on precision rubber-sealed bearings for super low-friction performance and maximum protection in dusty environments. They are used throughout  the truck and are virtually maintenance free.
Specifications
| | |
| --- | --- |
| Length | 514mm |
| Width | 333mm |
| Ground clearance | 70mm |
| Weight | 2.9kg without batteries |
| Height | 212mm |
| Wheelbase | 295mm |
| Top speed | 95 km/h with 3-cell LiPo and 23/50 gearing |
| Battery compartment | 162x47x26mm |
Data sheet
Manufacturer :

Traxxas

Scale :

1/10

Type :

Bind 'n Drive

Drive :

Electric Brushless
What you need to complete
Battery
Charger
4 AA batteries
Composition Kit
Hoss 4x4 VXL with Velineon VXL-3S and 540XL
Quick start guide
TQi 2.4GHz radio system
Maintenance tools
Hoss 1/10 Scale 4WD Brushless Monster Truck, VXL-3S,TQi - Solar Flare
479,95 €
MCM undertakes
Deliver within 24/48h
To send your order within 24h (on working days) (according to the limit of the available stock) & to deliver within 24/48h.
MCM Crew
A team of specialists is at your disposal in your language (Fr, Du & En) from Tuesday till Saturday at +33 975184596 (No. non-premium rate) from 10:00 to 18:30 or by email.
A few figures
A store of 400m² located south of Brussels open from tuesday till friday from 12.30 till 18.30 & saturday from 10.00 till 18.30.
25 years of experience.
+ 110 000 products ref.
+ 35 500 products in stock.
+ 240 distributed brands.
MCM Group, the R/C specialist since 1996
MCM Racing, MCM Skyshop, MCM Slot, MCM Marine