More info
SkyRC T400Q is a multi-function quattro balance charger/discharger with four independent circuits that can charge various chemistries batteries (LiPo/LiFe/Lilon/LiHV/NiMH/NiCd/Pb).

The charger delivers up to 100W per port and can charge four batteries simultaneously at up to 12 amps each. It comes ready to charge in the most compact design yet while taking up minimal space in the pit area. And the handle design ensures the charger is convenient to carry. Additionally, Additionally, the charger also can charge AGM and Pb battery under a low temperature in the AGM and Cold modes.
Key features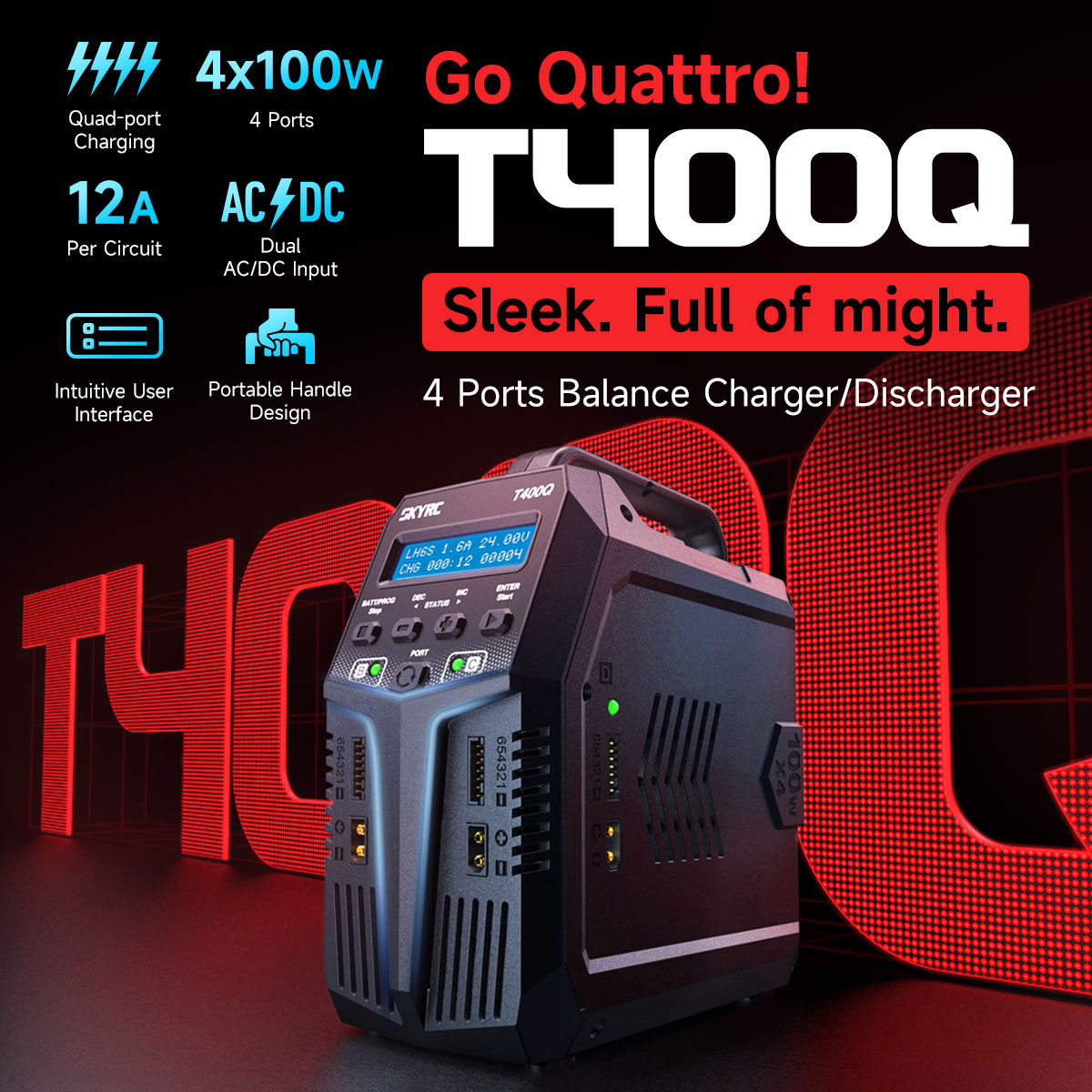 Specifications
DC Input Voltage:11-18V
AC Input Voltage : 100-240V
Display Type: 2x16 LCD
Display Backlight: Blue
Case Material: Plastic
Controls: Five Buttons
Case Size: 186*103*209mm
Weight: 1951g
External Port: 2-6S Balance Socket-XH, Battery Socket, DC Input.
Delta Peak Detection for NiMH/NiCd:3-15mV/cell / Default: 4mV/cell
Charge Voltage:

LiPo: 4.18-4.25V/S LiHV:4.25-4.35V/S
LiFe: 3.58-3.7V/S LiIon: 4.08-4.2V/S
PB: 2.40-2.45V/S

NiMH/NiCd: Delta peak detection
Balance Current: 500mA/cell
Reading Voltage Range: 0.1-26.1V/cell
Battery Types/Cells:

LiPo/LiHV/LiFe/LiIon: 1-6S
NiMH/NiCd: 1-15S
Pb: 2-20V

Battery Capacity Range:
NiMH/NiCd: 100-50000mAh
LiPo/LiHV/LiFe/LiIon: 100-50000mAh
Charge Current: 0.1A-12.0A
Charge Wattage: 100W X 4
Discharge Current: 0.1A-2.0A
Discharge Wattage: 10W
Discharge Cut-off Voltage:
NiMH/NiCd: 0.1-1.1V/S
LiPo: 3.0-3.3V/S LiFe: 2.6-2.9V/S
LiHV: 3.1-3.4V/S LiIon: 2.9-3.2V/S
Pb: 1.8-2.0V/S
Memory: The charger can store up to10 different charge/discharge profiles on each port.
Charge Method:

CC/CV for lithium types and lead (Pb) batteries
Delta-peak Sensitivity for NiMH/NiCd.

Capacity Cut-off: 100~50000mAh & OFF(default: 5000mAh)
Safety Timer: 1~ 720min &OFF(default: 120mins)
T400Q Quattro AC/DC Charger (4x 100W)
210,99 €
Viewed products
MCM undertakes
Deliver within 24/48h
To send your order within 24h (on working days) (according to the limit of the available stock) & to deliver within 24/48h.
MCM Crew
A team of specialists is at your disposal in your language (Fr, Du & En) from Tuesday till Saturday at +33 975184596 (No. non-premium rate) from 10:00 to 18:30 or by email.
A few figures
A store of 400m² located south of Brussels open from tuesday till friday from 12.30 till 18.30 & saturday from 10.00 till 18.30.
25 years of experience.
+ 110 000 products ref.
+ 35 500 products in stock.
+ 240 distributed brands.
MCM Group, the R/C specialist since 1996
MCM Racing, MCM Skyshop, MCM Slot, MCM Marine