1/24 Max Smasher RTR car kit - Blue
More info
The FMS 1/24 Bigfoot model-MAX SMASHER adopts the FCX24 chassis. The car body design restores the appearance of a first-generation American pickup truck. The huge hollow tires provide excellent shock absorption. The two-speed gearbox, controlled by the third channel, can not only provide strong torque, but also support high-speed off-road driving. The front and rear axles are equipped with planetary gear differentials by default, which is conducive to high-speed off-road driving, posture simulation and outstanding cornering performance. Meanwhile, straight axle parts without differentials are also provided for users to replace by themselves. When the straight axle parts are replaced, the differential function of the front and rear axles is lost but its climbing ability is completely released, and no matter whether it is rocks or mud, it can pass through powerfully. Of course, the hybrid solution of installing a straight axle on the rear axle and installing a differential on the front axle is also an option, which not only enables high-speed off-roading, but also retains a certain climbing ability.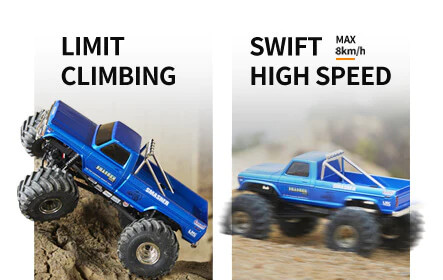 TWO-SPEED TRANSMISSION LEAVES RIVALS IN THE DUST
The torque output in Low speed is strong and great for extreme climbing; a high speed of Max 8km/h allows you get to the rocks or mud quicker and experience the fun sooner.
68MM MONSTER TRUCK TIRES
The bigger the tires, the better for driving in mud and swamps. The huge tires provide unparalleled passing ability. With sufficient power, two-wheel driving, jumping and even somersaults can be easily performed.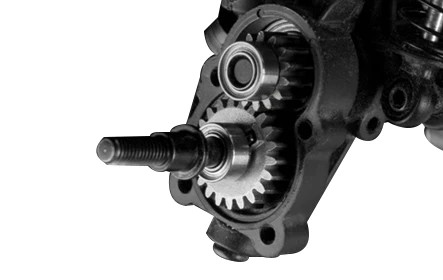 PORTAL AXLE
The portal axle is a major feature of the FCX24. With huge tires, the ground clearance of the chassis is further increased, and the vehicle's passability is further enhanced.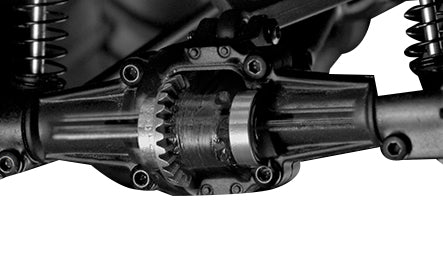 FRONT AND REAR AXLE PLANETARY GEAR DIFFERENTIALS
The front and rear axles are equipped with planetary gear differentials by default, which is conducive to high-speed off-road driving, posture simulation and outstanding cornering performance.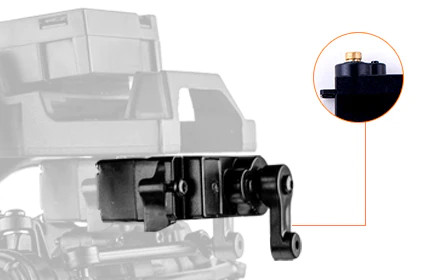 METAL GEARS STEERING SERVO
Durable waterproof metal gear steering servo allows you to control the accuracy of steering.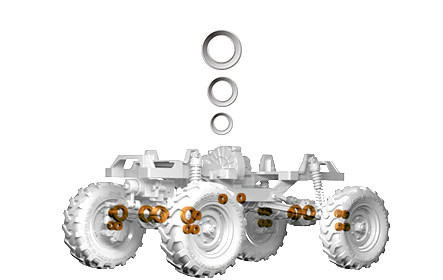 24 BALL BEARINGS PRE-INSTALLED
FCX24 is pre-installed with 24 ball bearings, providing higher performance, longer lifespan and reduced power loss resulting in longer run times.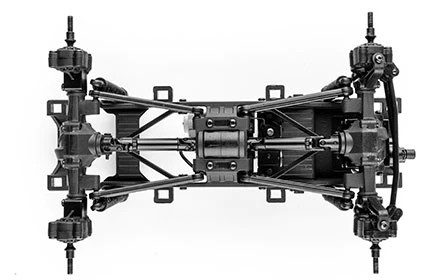 FOUR LINK SUSPENSION
The front and rear of the FCX24 is equipped with a compact 4-Link, improving the stability and articulation required for extreme rock crawling.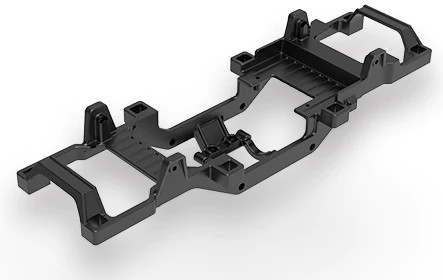 INTEGRATED NYLON FRAME
The FCX24's integrally formed frame is made of high-strength nylon rather than metal and plastic, allowing for a lower center of gravity, lighter weight and higher strength than traditional models.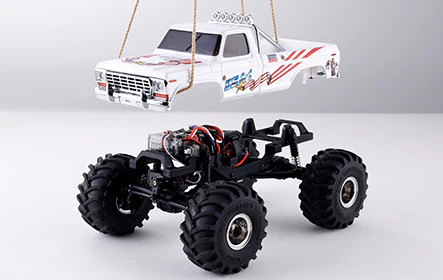 RAPID SEPARATION CAR BODY
The FCX24's hard plastic body can be separated from the frame with just the squeeze of a couple of clips, making it easy to maintain, make technical adjustments, install performance upgrades and clean.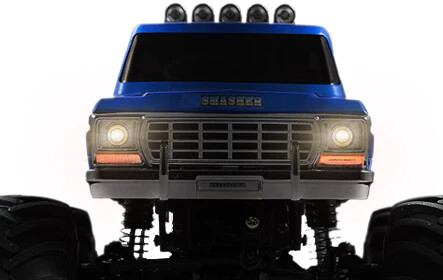 REMOTE CONTROL LIGHTING SYSTEM
Intelligent lighting control module, allows the headlights to switch between hi and lo beam making it possible to light up the trail day or night.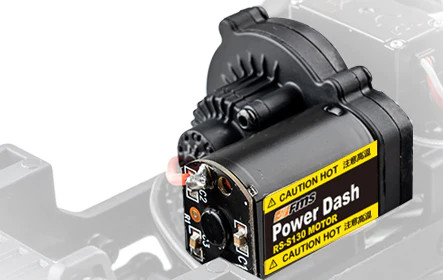 130 BRUSHED MOTOR
Driven by the sheer power of the 130 motor, the Monster Truck can raise its head and tilt its tail.
Key features
Ready to Run model
Two speed transmission (controlled by the third channel)
Front and rear axle planetary gear differentials
Ball bearings full set
Remote control lighting system
Portal axle
Metal gears steering servo
Four link suspension
High strength integrated nylon frame
Rapid separation car body
Painted body
Original personalized stickers
Plated scaled details
2.4GHz radio
Specifications
| | |
| --- | --- |
| Length: | 227 mm |
| Width: | 156 mm |
| Height: | 127 mm |
| Weight: | 442 g (without battery) |
| Wheelbase: | 139 mm |
| Tyre F/R: | Φ 68 x 34 mm |
| Minimum Ground clearance: | 44 mm |
| Speed: | Max 8km/h |
| Remote control distance: | 30 m |
| Reduction ratio: | (high gears) 24.75, (low gears) 99 |
| Motor: | 130 Brushed |
| Battery: | 2S LiPo 7.4v 380maH x1 |
| Approx. operating duration time: | 20 min |
| Remote control: | G3 + R3a transmitter, receiver with ESC group control board |
Data sheet
Manufacturer :

FMS

Type de Kit :

RTR

Scale :

1/24

Type :

Ready to Run

Drive :

Electric
What you need to complete
4 x AAA Batteries for Transmitter
Composition Kit
1 x 1:24 Max Smasher RTR
1 x 2.4G Transmitter
1 x 3-in-1 Receiver (installed)
1 x 130 Brushed Motor (installed)
1 x Metal Gears Steering Servo (installed)
1 x Plastic Digital Servo (installed)
1 x 7.4V 380mAh Battery
1 x USB Battery Charger
1 x Hex Wrench Socket
1 x Product Manual
1/24 Max Smasher RTR car kit - Blue
189,99 €
Viewed products
MCM undertakes
Deliver within 24/48h
To send your order within 24h (on working days) (according to the limit of the available stock) & to deliver within 24/48h.
MCM Crew
A team of specialists is at your disposal in your language (Fr, Du & En) from Tuesday till Saturday at +33 975184596 (No. non-premium rate) from 10:00 to 18:30 or by email.
A few figures
A store of 400m² located south of Brussels open from tuesday till friday from 12.30 till 18.30 & saturday from 10.00 till 18.30.
25 years of experience.
+ 110 000 products ref.
+ 35 500 products in stock.
+ 240 distributed brands.
MCM Group, the R/C specialist since 1996
MCM Racing, MCM Skyshop, MCM Slot, MCM Marine