More info
At the heart of the Enduro is our revolutionary StealthR X gearbox. Although the exterior appears to have a conventional 3-gear transmission look, the inside is far from conventional. The StealthR X features the ability to adjust the rear drive ratio independently of the front drive across three levels: stock overdrives the front end 5.7% (installed in RTR), option 1 provides a one-to-one drive ratio front-to-rear (available separately), and option 2 overdrives the front end 11.83% (included with RTR).
Feeding the power to the tires are 3-piece telescopic driveshafts with an extruded aluminum center section, universal front drive axles, and hardened steel ring and pinion gears. With the Enduro drivetrain, delivering useful power will not be an issue.
We relocated the steering link assembly from the conventional location to behind the axle (BTA). This feature greatly improves approach angle and front-end clearance, making rough terrain much easier to handle.
The Enduro Trail Truck with Sendero body comes ready for adventure right out of the box, with performance-driven Reedy Power electronics. The all-new, ultra-smooth, and powerful 16-turn, 5-slot brushed crawler motor and Reedy Power SC480X electronic speed controller with T-plug connector supply ample power to this tough rig. Controlling the beast on the trail is our new 3-channel XP130 2.4GHz radio and Reedy Power high-torque 1320MG metal-gear servo.
With all this packed in one box, we know the Enduro Trail Truck is ready for the trail - are you?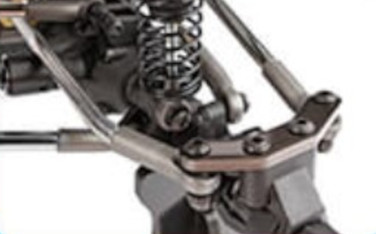 BTA Steerin & aluminium steering plates
The axle steering provide better approach angle, more clearance and a cleaner look. Bolt-on aluminium steering plates allow for more adjustment strengh and future modification for the user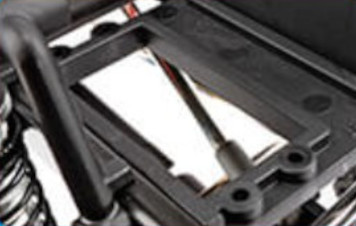 Integrated servo winch mount
Mounting a winch directly to the chassis is the strongest and most reliable spot on any trail rig. Positioned alongside the steering servo for overall chassis balance and weight distribution.
Reedy power crawler motor
The new Reedy Power 5 slot 16 turn brushed crawler motor provide ample torque with a smooth power delivery. This allows for slow precise acceleration while maintaining consistent power over rough terrain and obstacle.
Radio & Servo
The XP130 2.4GHz 3 channel radio and receiver together with a Reedy Power 1320MG (Metal Gear) water resistant servo is the perfect setup for keeping the Enduro under control on the trail.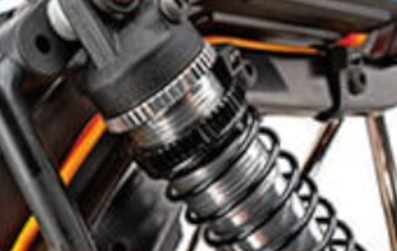 Threaded aluminium shock bodies
Threated aluminium and fluid-filled, these shocks keep the vehicle stable on the trail and retain oil even in the roughest terrain
Reedy power electronic speed controller (ESC)
The water resistant SC480X brushed ESC is specifically programmed for crawling with proportional forward/reverse dual auxiliary power output leads LiPo low voltage cutoff protection and T-plug connector
Key features
CMS (Chassis Mounted Servo)
Adjustable front track bar
Universal front drive axles
Stamped steel frame rails
Enclosed receiver box
12mm wheel hexes
Adjustable front and rear bumper mounts
Adjustable width rock sliders
Two battery boxes
Aluminum motor plate
Adjustable body posts
Optimized ball cups for more fluid axle articulation
Adjustable rear shock tower mount positions
Telescopic driveshafts front and rear
Extruded aluminum driveshaft splines
One-piece rear axle design
Splined front axle with adjustable caster
Machined input pinion gear
Metal ring and idler gears
Machined steel top shaft
Steel servo horn
Heavy-duty 5mm diameter steel links
Metal ball bearings included
Specifications
| | |
| --- | --- |
| Power source : | Electric |
| Scale : | 1 :10 |
| Width : | Varies |
| Wheelbase : | 313 mm |
| Weight : | Varies |
| Drive train : | 4WD |
Data sheet
Manufacturer :

Element RC

Scale :

1/10

Type :

Ready to Run

Drive :

Electric (Brushed)
What you need to complete
Battery pack
Battery charger
4 AA batteries for radio
RC Enduro Trail Truck, Trailwalker RTR Black
503,99 €
Viewed products
MCM undertakes
Deliver within 24/48h
To send your order within 24h (on working days) (according to the limit of the available stock) & to deliver within 24/48h.
MCM Crew
A team of specialists is at your disposal in your language (Fr, Du & En) from Tuesday till Saturday at + 32 2 376 24 05 (No. non-premium rate) from 10:00 to 18:30 or by email.
A few figures
A store of 400m² located south of Brussels open from tuesday till friday from 12.30 till 18.30 & saturday from 10.00 till 18.30.
25 years of experience.
+ 110 000 products ref.
+ 35 500 products in stock.
+ 240 distributed brands.
MCM Group, the R/C specialist since 1996
MCM Racing, MCM Skyshop, MCM Slot, MCM Marine