Motor cooling fan for 1/5 Beast Motor
More info
The SKYRC twin motor cooling fan with housing fits 1/5 scale motor with diameter of 55mm and power connector can plug directly into any open channel of the receiver or BEC, it can reduce the temperature of the motor quickly and get the motor as cool as possible.
Pushing your 1/5 scale car to the limit! Get SKYRC twin motor cooling fan!
Key features
Fan housing made of heat-resisting material
Twin super big cooling fans with high rotation speed and good airflow
Reasonable design with most cooling efficiency
Easy to install and remove
Two zip ties for easy and firm fastening
Specifications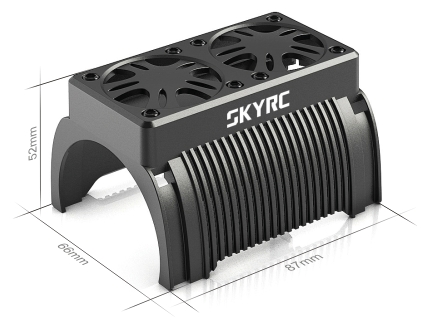 Weight : 65 g
Input Voltage : 5-7.4V
Cooling Fan : Twin 40x40x10mm with 500mm Length Cable and JR Male Connector
Zip Ties Length : 250 mm
Suitable Motor Size: 1/5 Scale X528 Motor (Φ55x112mm)
Motor cooling fan for 1/5 Beast Motor
15,39 €
Viewed products
MCM undertakes
Deliver within 24/48h
To send your order within 24h (on working days) (according to the limit of the available stock) & to deliver within 24/48h.
MCM Crew
A team of specialists is at your disposal in your language (Fr, Du & En) from Tuesday till Saturday at + 32 2 376 24 05 (No. non-premium rate) from 10:00 to 18:30 or by email.
A few figures
A store of 400m² located south of Brussels.
23 years of experience.
+ 110 000 products ref.
+ 35 500 products in stock.
+ 240 distributed brands.
MCM Group, the R/C specialist since 1996
MCM Racing, MCM Skyshop, MCM Slot, MCM Marine