RC4WD Trail Finder 2 Truck Kit SWB
More info
The TF2 SWB has both detailed styling and aggressive performance.
You will find a balance of capability and performance built into every TF2.
Performance of the TF2 is smooth and with its R3 single speed transmission, 4WD drivetrain, bullet-proof transfer case and quality metal components throughout.
The TF2 is truly a work of art in both appearance and performance.
Every TF2 SWB is compatible with a full range of option parts designed to enhance the performance
and add to the scale look of the only true scale 1/10 offroad truck... The Trailfinder 2 SWB.
Drivetrain
The TF2 includes the Hammer Transfer Case. Packed with detail, the case features a cast metal exterior and the .8 Mod widened gears for durability.

The most scale accurate axles on the market, the RC4WD Cast Yota II axles feature innovative round knuckles, new lower mounting points and compact offset pumpkins.

The R3 Single Speed Transmission comes with a cast aluminum case and new wider gears to allow for more abuse along with a Delrin spur with slipper clutch.

Drawing on the success of the RC4WD MOA gear sets, the TF2 drivetrain has the most durable gears RC4WD has to offer so the TF2 will stay on the trail, day after day.

The Metal Driveshafts for the TF2 are an all new design featuring bulletproof steel universals and a new high quality plastic shaft for great driveline angles and durability on the trail.
Suspensions

The TF2 includes a set of RC4WD Ultimate Scale Shocks. Designed for ultimate scale looks and ultimate performance. The shocks are machined from billet aluminum and internally sprung.

The TF2 includes a set of RC4WD Black Stamped Steel 1.9 Internal Beadlock Wagon Wheels. Super tough black painted finish, aluminum internal ring and popular 5 lug design.

The TF2 Chassis is a machined billet aluminum ladder frame design with leaf springs, scale shock hoops, chassis servo mounts and hard body mounts. 4-link conversion available

Every TF2 needs a tough set or rock grabbing tires and the included Mud Thrashers in X3 Compound deliver the traction as well as perfect scale looks in just the right size.
Key features
Realistic Billet Aluminum Ladder Frame Chassis "SWB"
R3 Single Speed Transmission
Center Mounted Realistic 4x4 Transfer Case
Yota II Ultimate Scale Cast Axle
True to Scale Leaf Spring Suspension
5 Lug Wagon 1.9" Steel Stamped Beadlock Wheels (Black)
Mud Thrashers 1.9" Scale Tires
Realistic Bumpers and Skid Plate
Chassis Mounted Steering Servo
RC4WD Scale Shock Absorbers
Plastic Rod Ends
Full Ball Bearings
Specifications
All New Hammer Transfer Case
Ratio - 1.47:1
Gears - Wide .8 Mod steel gears

All New R3 Single Speed Transmission
Ratio: 1.78:1
Pinion/spur 14/64 = 4.57:1

Cast Yota 2 Axles
Ratio: 15/40 = 2.67:1
Width at hex: 176.5mm

Trailfinder 2 SWB Chassis
Features - Billet aluminum construction Adjustable shock hoops

Driveshafts
RC4WD Punisher Metal Driveshafts
Heavy duty steel construction

Wheels
Type: 1.9 Steel Beadlock Wheels with Lug Nuts
Hub: Pin type
Width: 25mm
Back spacing: 11mm

TF2 SWB Dimensions
Wheelbase: 9.9in / 242mm
Width: 8.3in / 211mm
Height: 5.55in / 141mm
Ground Clearance: 2.3in / 58.5mm
Overall Length: 15.31in / 389mm
Weight: 62.1oz / 1.76kg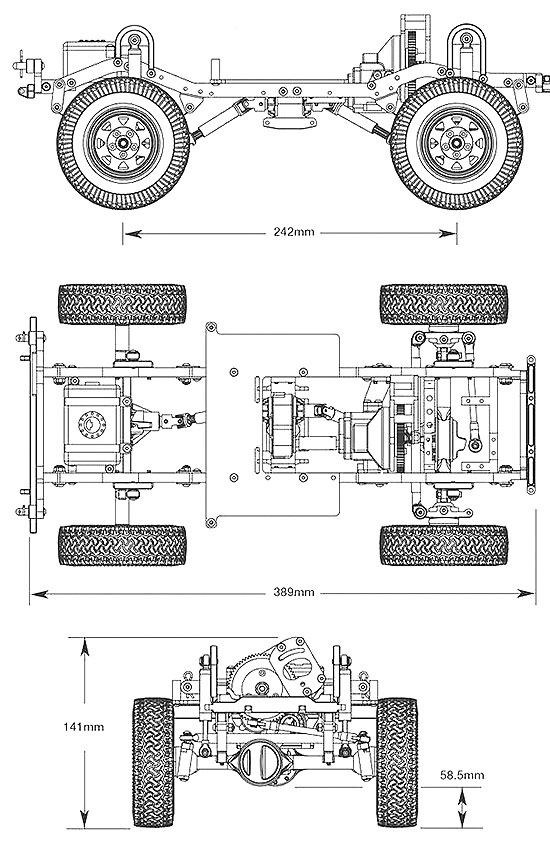 Data sheet
Manufacturer :

RC4WD

Level of difficulty (1 to 3) :

3

Scale :

1/10

Type :

To build

Drive :

Electric
Composition Kit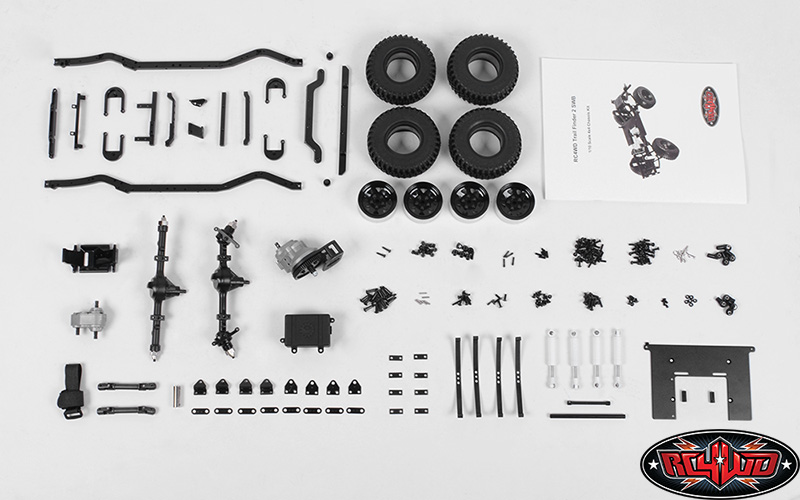 1x RC4WD Trail Finder 2 SWB
Universal Body Mounting Kit for TF2 SWB (Z-S1753)
RC4WD Trail Finder 2 Truck Kit SWB
524,99 €
Viewed products
MCM undertakes
Deliver within 24/48h
To send your order within 24h (on working days) (according to the limit of the available stock) & to deliver within 24/48h.
MCM Crew
A team of specialists is at your disposal in your language (Fr, Du & En) from Tuesday till Saturday at + 32 2 376 24 05 (No. non-premium rate) from 10:00 to 18:30 or by email.
A few figures
A store of 400m² located south of Brussels.
23 years of experience.
+ 110 000 products ref.
+ 35 500 products in stock.
+ 240 distributed brands.
MCM Group, the R/C specialist since 1996
MCM Racing, MCM Skyshop, MCM Slot, MCM Marine