More info
TRX-4 Sport Innovation and Off-Road Capability

Now Available as a Kit!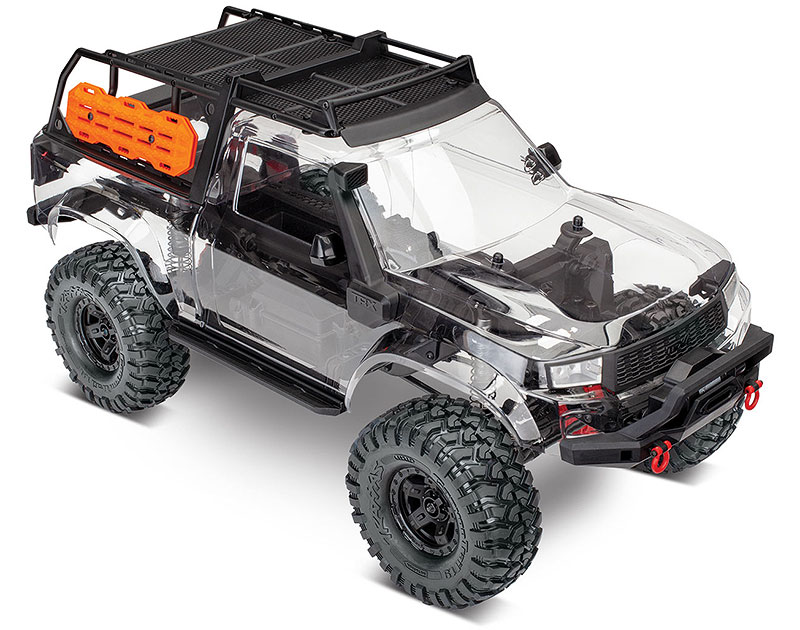 The Traxxas TRX-4 Sport is purpose built for trail-conquering RC fun with innovative technical features and rugged durability. The new TRX-4 Sport Unassembled Kit combines all the technical capability of the RTR truck, with the excitement of building your own kit. The TRX-4 Sport Kit assembles to form a roller chassis without electronics, battery, or charger. From mild to wild, enjoy ultimate build-it-yourself freedom to add your own motor, electronic speed control (ESC), servo, and radio system to the highly competent chassis. All the parts are organized neatly in labeled bags with pre-assembled shocks and suspension links. A fully illustrated color manual makes the kit as much fun to construct as it is to take off-road.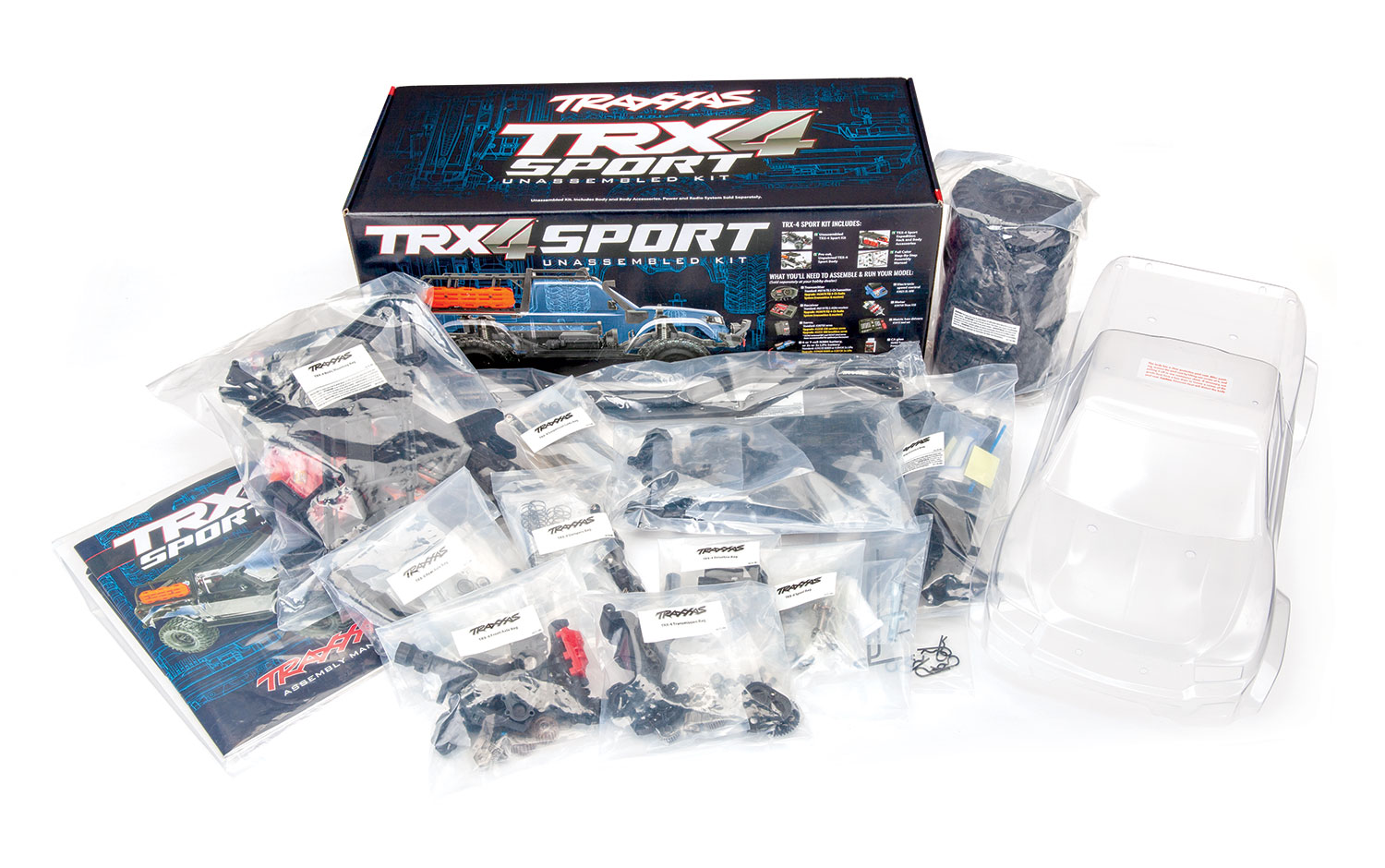 Includes Over $70 of Scale Accessories!
The Traxxas TRX-4 Sport Kit comes fully outfitted with an entire complement of scale accessories as standard equipment. The expedition rack not only looks great, but provides rugged protection for the body. The body and expedition rack are outfitted with a replica snorkel, side mirrors, traction boards, fire extinguisher, jack, and gas cans for maximum scale detail. The front and rear injection molded grill and tail gate also include lenses to make installing LED lights a breeze!
Easy to Follow Assembly Instructions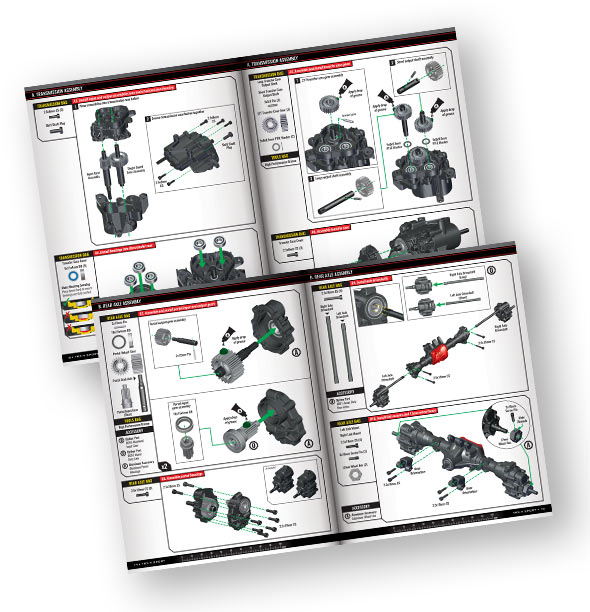 The TRX-4 Sport Unassembled Kit isn't just for expert hobbyists. Traxxas goes the extra mile to make the full-color instruction book easy to follow and fun to use. Each section corresponds to a labeled bag with step-by-step assembly instructions. True-to-scale part illustrations and ruler charts make it easy to differentiate between different screws, bearings, and gears. Helpful assembly tips and clear illustrations take the frustration out of the assembly process. Have fun on the workbench and on the trail with the new TRX-4 Sport Kit.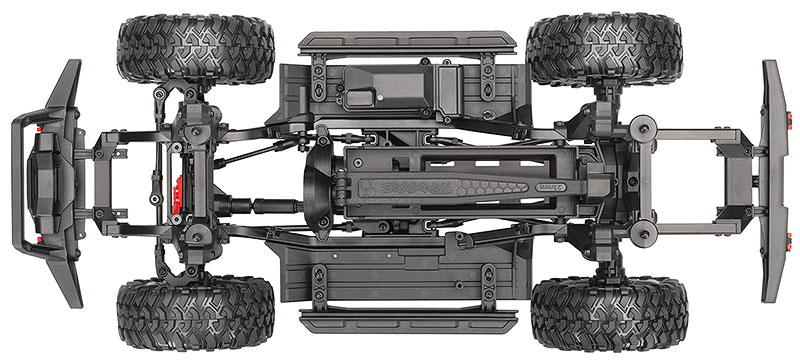 Specifications
Length:
 
21.93 inches (557mm)
Front Track:
 
9.78 inches (249mm)
Rear Track:
 
9.78 inches (249mm)
Ground Clearance:
 
3.14 inches (80mm)
Weight:
 
5.79lb (2.63kg) (with electronics installed)
Height:
 
9.47 inches (241mm)
Wheelbase:
 
12.28 inches (312mm)
Front Shock Length:
 
3.54 inches (90mm)
Rear Shock Length:
 
3.54 inches (90mm)
Approach Angle:
 
58.82°
Departure Angle:
 
45.83°
Breakover Angle:
 
58.93°
Front Wheels:
 
1.9 x 1.02 inches (49 x 26mm)
Rear Wheels:
 
1.9 x 1.02 inches (49 x 26mm)
Front Tires:
 
4.64 x 1.89 inches (118 x 48mm)
Rear Tires:
 
4.64 x 1.89 inches (118 x 48mm)
Wheel Hex:
 
12mm
Speed Control:
 
Sold separately
Motor (electric):
 
Sold separately
Differential Type:
 
Spool (no differential)
Transmission:
 
Single speed
Gear Pitch:
 
32
Chassis 
Structure/Material:
 
Steel Ladder Frame with Nylon Composite Crossmembers
Drive System:
 
Shaft-Driven 4WD
Radio System:
 
Sold separately
Skill Level:
 
2
Battery Tray:
 
158.75 L x 47 W x 23/26mm H
Data sheet
Manufacturer :

Traxxas

Level of difficulty (1 to 3) :

2

Scale :

1/10

Type :

To build
What you need to complete
Electronics, battery, and charger
Composition Kit
TRX-4 Sport Unassembled Kit, pre-cut clear body with Expedition Rack, and full-color step-by-step assembly manual.
TRX-4 sport KIT crawler TQi XL-5(No battery/charger/electronics)
319,95 €
Viewed products
MCM undertakes
Deliver within 24/48h
To send your order within 24h (on working days) (according to the limit of the available stock) & to deliver within 24/48h.
MCM Crew
A team of specialists is at your disposal in your language (Fr, Du & En) from Tuesday till Saturday at + 32 2 376 24 05 (No. non-premium rate) from 10:00 to 18:30 or by email.
A few figures
A store of 400m² located south of Brussels.
23 years of experience.
+ 110 000 products ref.
+ 35 500 products in stock.
+ 240 distributed brands.
MCM Group, the R/C specialist since 1996
MCM Racing, MCM Skyshop, MCM Slot, MCM Marine