More info
The Pro Boat Impulse 32-inch Brushless V-Hull picks up where the Impulse 31 left off and brings tremendous excitement with new styling unlike any other V-hull RC boat on the market. The Spektrum 2000Kv water-cooled motor coupled with the high-powered Spektrum Firma 160A water-cooled Smart ESC is capable of producing up to 3 horsepower and hitting 90km/h! Of course, everything is controlled by the Spektrum Smart System making this speed demon incredibly intelligent. A Spektrum DX3 Transmitter and waterproof SR315 Dual Protocol 3-channel Telemetry Receiver keep everything tightly connected for interference free operation and built-in telemetry. With Smart, users can see battery voltage (tank level) (DX3 Standard just views Battery Level), ESC Temps, Amp Draw, and motor RPM (with either a Blue Tooth Module and Dashboard App, or utilizing a DX5 etc.). The Impulse 32 also features a multi-layer fiberglass hull and canopy with aluminum thumb screw canopy locks, a durable composite molded interior, an aluminum rudder, and stainless-steel propeller. With the latest technological advances and powerful motor, the lake is yours with the Pro Boat Impulse 32-inch V Hull.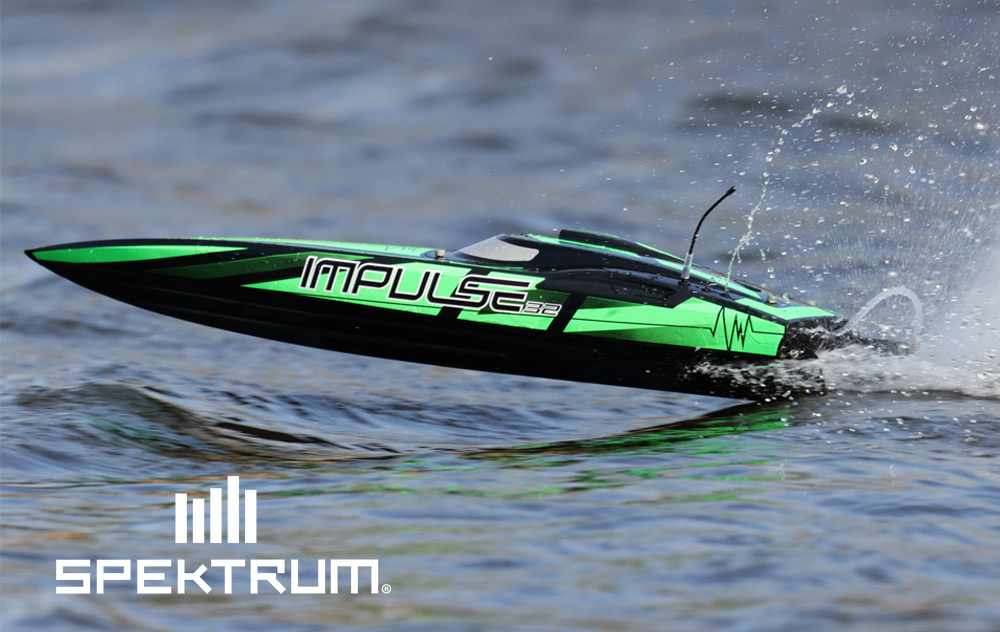 Spektrum 2000Kv water-cooled motor
Rated at over 3 horsepower with 90%+ efficiency, the powerful Spektrum 2000Kv brushless and waterproof motor provides more than enough torque to hit 90km/h.
Spektrum Smart
The Impulse 32 is Spektrum Smart compatible allowing the user to see battery voltage, battery level, motor RPM, and ESC Temps all through the ESC and telemetry receiver.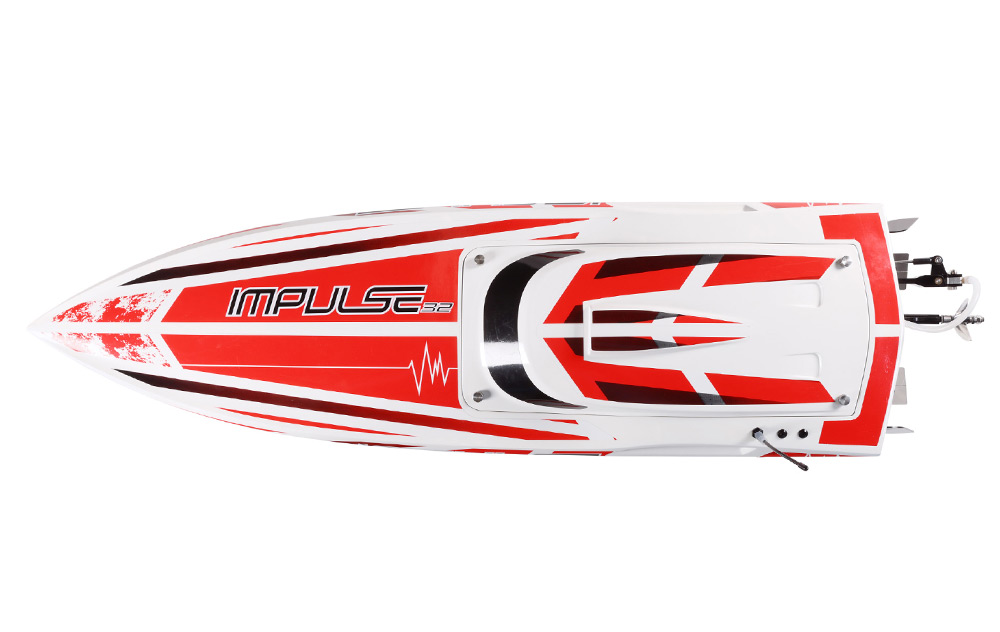 Fiberglass canopy
Durable multi-layer fiberglass provides a watertight seal and the thumb screws means no tape is necessary to retain the canopy on to the hull. Realistic air scoops and vents add to the scale appearance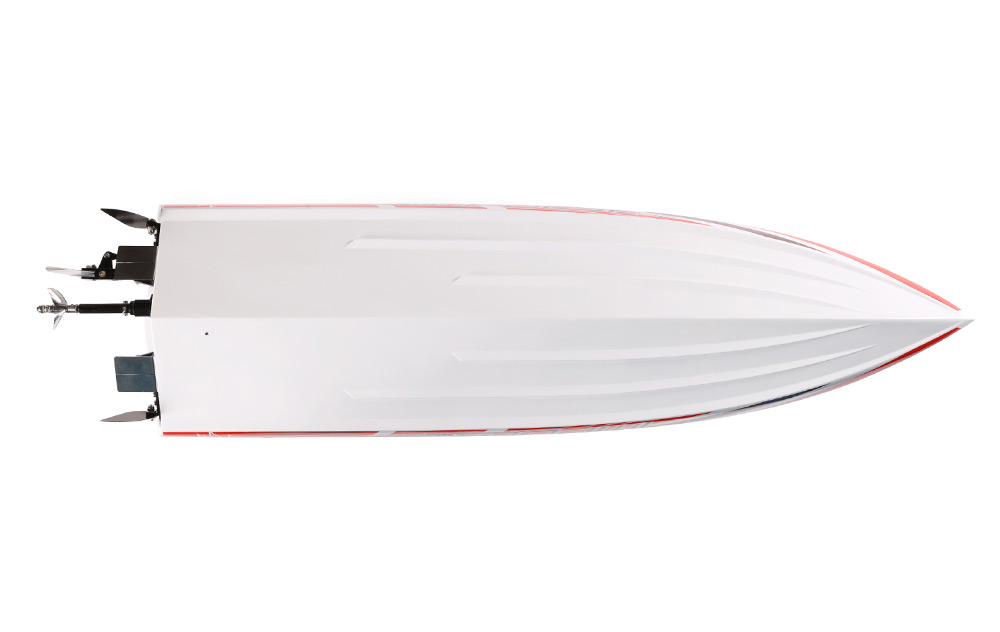 Fiberglass hull
The durable multi-layer fiberglass hull features an attractive paint scheme and aggressive style resembling the fastest boats in offshore racing. Aluminum, threaded, canopy latch bases and EVA foam keep water out without the need for hatch tape.
Spektrum DX3 Transmitter
Spektrum technology ensures crystal clear, interference free connection between the driver and boat. The DX3 features infinite model memory and is telemetry compatible.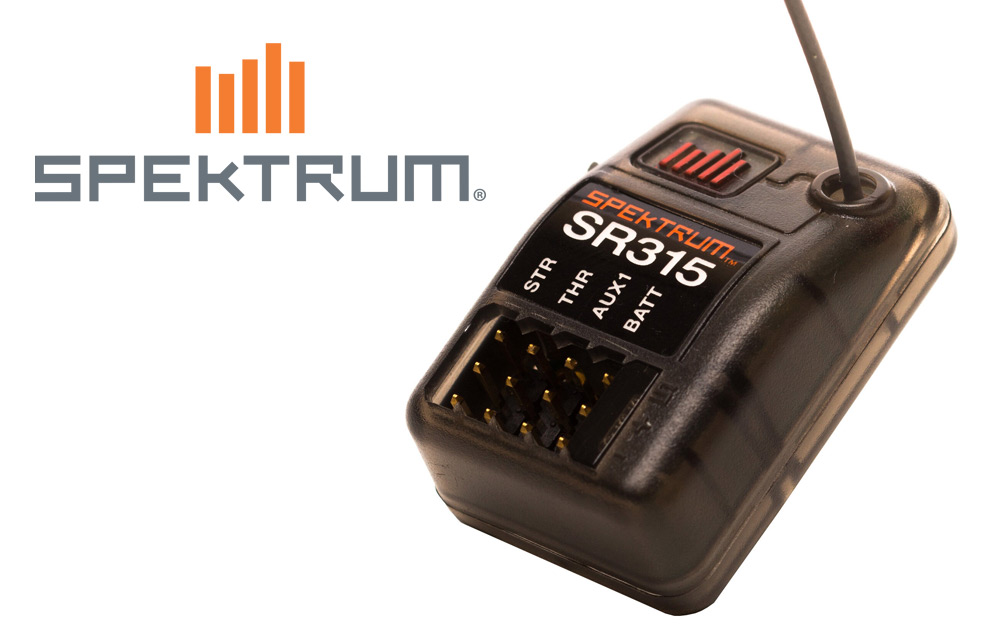 Spektrum SR315 Dual protocol receiver
The waterproof 3-channel receiver ensures interference free operation and is telemetry capable.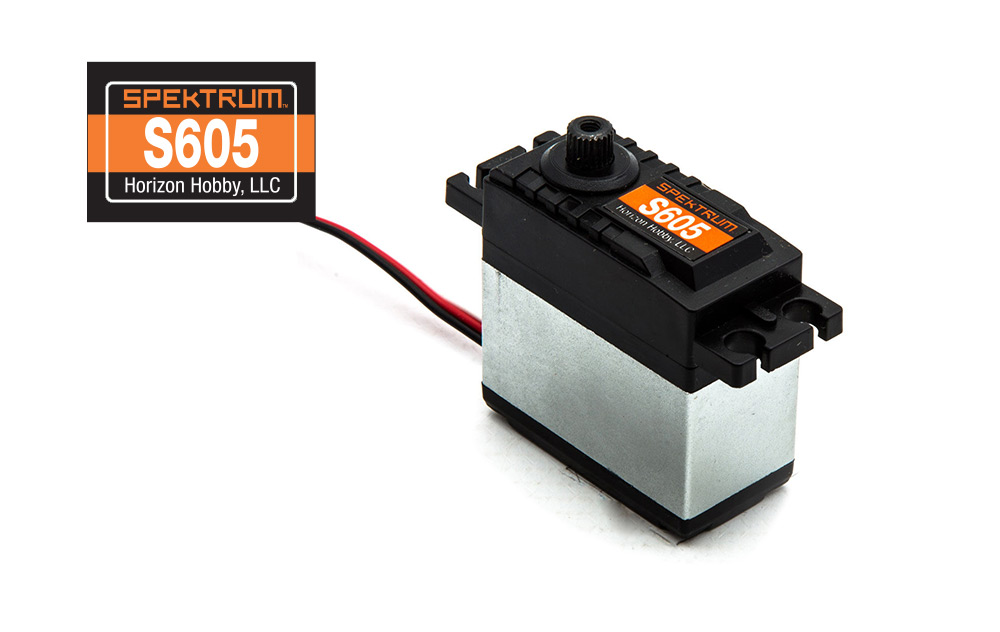 Waterproof servo
The high torque servo provides more than enough power to keep the boat pointed in the correct direction. Waterproofing makes sure the servo is up to the task of being in a boat without the risk of failure do to getting wet.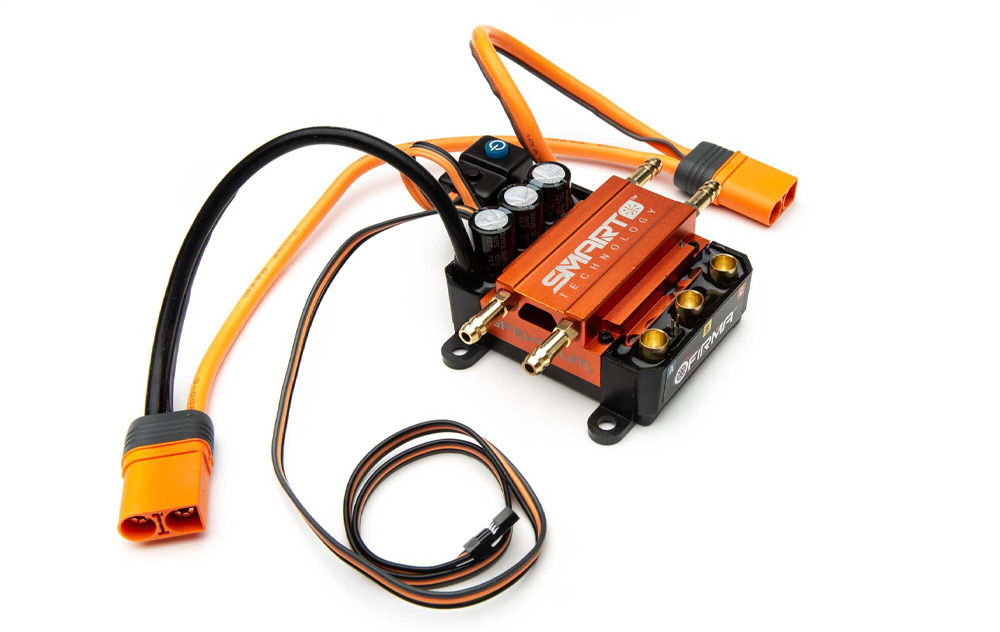 Spektrum Firma 160A Smart Brushless Marine ESC
Able to handle all the power needed, it is programmable, water-cooled, waterproof, and Smart.
Clean molded composite interior
The interior is wood-free to avoid rot and decay and the grease cup prevents grease from spreading inside. The clean molded composite interior adds rigidity and strength to the hull.
Adjustable trim tabs
Fully adjustable trim tabs provide top of the line performance in almost any water condition. Stainless steel construction provides long life.
Adjustable aluminium turn fins
Adjustability allows fine tuning for optimal performance in order to keep the boat planted in almost any water condition. Aluminum fins stand up to abuse of hitting floating objects in water. Anodized for protection from hard water.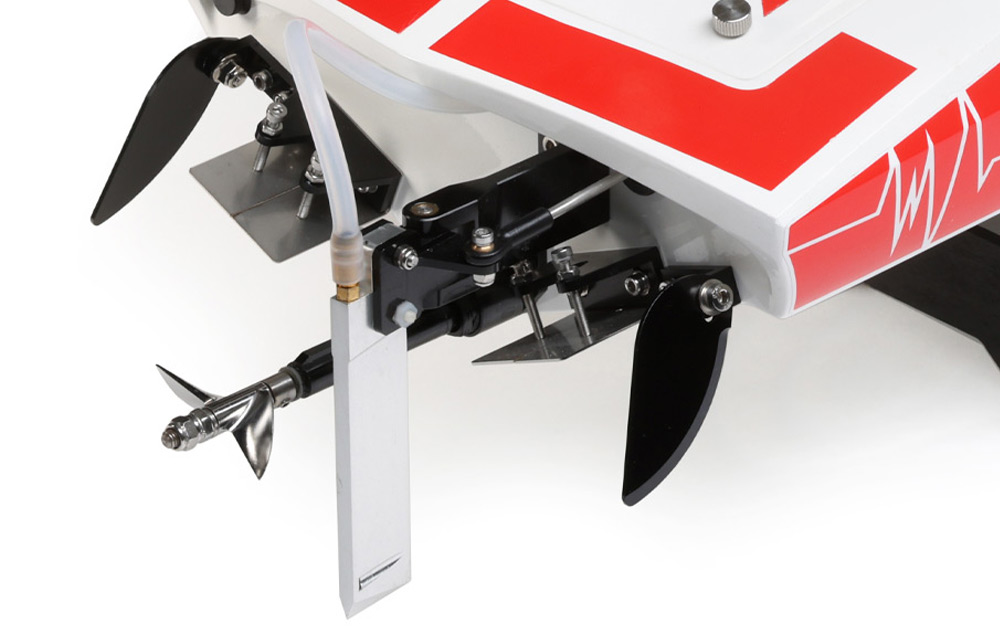 Aluminium propeller strut and rudder
Both the adjustable stinger-style propeller strut and rudder feature hard anodized aluminum. The rudder has a special break away feature that protects the hull from damage in case floating debris is struck.
Stainless steel propeller
Stainless steel propeller for performance and durability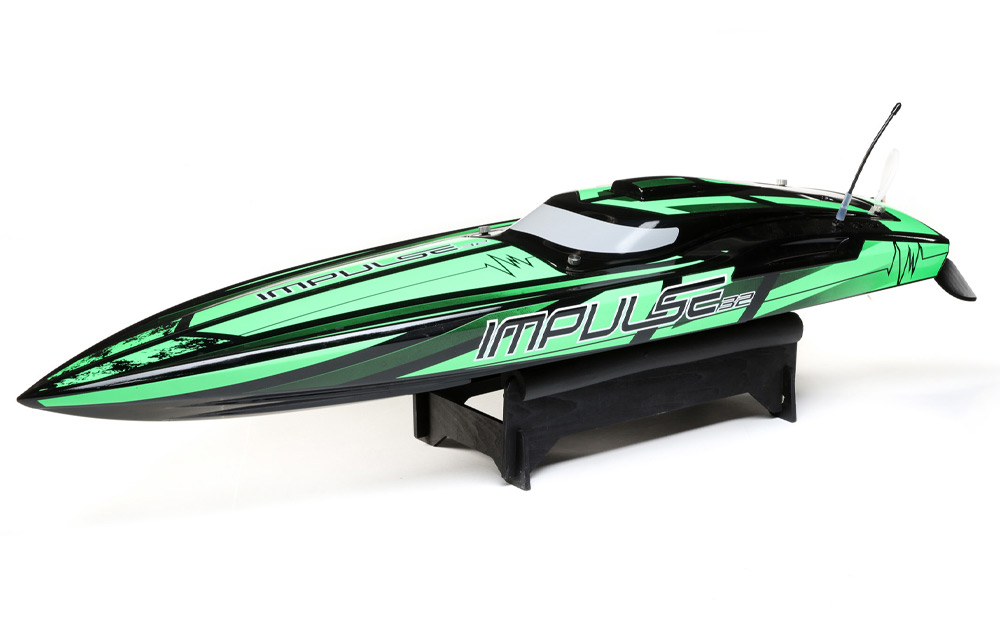 Boat stand
The sturdy wood construction works as a display or work stand. Foam protects the boat's finish, and it can easily be stained to match any décor.
Key features
Multi Layered Fiberglass Composite Hull
Fiberglass Composite Canopy with Aluminum Thumb Screws
Spektrum Marine 4685 4 Pole, Water-cooled 2000Kv Motor
Spektrum Smart 160A High Voltage, Water-cooled ESC
Clean Molded Composite Interior
Aluminum Propeller Strut
Aluminum Rudder
Spektrum DX3 Transmitter
SR315 3-Channel Telemetry Receiver
S605 9kg Waterproof Metal Gear Servo
Specifications
| | |
| --- | --- |
| Approximate assembly time | < 1h |
| Beam | 238mm |
| Completion level | Ready-to-Run |
| Hull height | 5.75mm |
| Material | Fiberglass |
| Motor size | 3680 |
| Motor type | Brushless |
| Length | 837mm |
| Weight | 4kg |
| Propeller size | 1.7 x 1.6in |
| Speed | Up to 90km/h |
Data sheet
Manufacturer :

Proboat

Kits :

Offshore EP

Type :

Ready to Run
What you need to complete
(2) 2S or 3S LiPo Batteries IC5 50C+
Compatible LiPo Charger (Smart)
Composition Kit
Impulse 32, Deep-V, Brushless, Smart RTR Boat
Spektrum Marine 4685 4 Pole, Water-cooled 2000Kv Motor (Installed)
Spektrum Smart 160A High Voltage, Water-cooled Marine ESC (Installed)
Aluminum Propeller Strut and Rudder (Installed)
Spektrum DX3 Transmitter
SR315 3-Channell Telemetry Receiver (Installed)
S605 9kg Waterproof Metal Gear Servo (Installed)
Boat Stand
User Manual
Impulse 32, BL, Blk/Grn: RTR
549,99 €
Viewed products
MCM undertakes
Deliver within 24/48h
To send your order within 24h (on working days) (according to the limit of the available stock) & to deliver within 24/48h.
MCM Crew
A team of specialists is at your disposal in your language (Fr, Du & En) from Tuesday till Saturday at + 32 2 376 24 05 (No. non-premium rate) from 10:00 to 18:30 or by email.
A few figures
A store of 400m² located south of Brussels open from tuesday till friday from 12.30 till 18.30 & saturday from 10.00 till 18.30.
25 years of experience.
+ 110 000 products ref.
+ 35 500 products in stock.
+ 240 distributed brands.
MCM Group, the R/C specialist since 1996
MCM Racing, MCM Skyshop, MCM Slot, MCM Marine