Key features
Features all wheel steering, a moveable turret, and is designed to be amphibious as it comes with a water jet propulsion system!
All metal two speed transmission
4 axles with 8 wheel drive
Floats in water
Length – 700mm
Width – 278mm
All-metal 8-wheel independent suspension
Belt driven 8×8
Equipped with a retractable water baffle
Infinite rotating turret
Scale periscopes, low light and infrared night vision devices on side
Scale body details like metal towing hooks, cables, & external infantry armrests
Specifications
length: 700mm,
width 278mm,
height 266mm.
turning radius 530mm
Data sheet
Manufacturer :

Cross-RC

Scale :

1/12

Type :

To build

Drive :

Electric (Brushed)
What you need to complete
This truck weighs approx 11kg and requires for best performance, HV servos, with high torque, for steering, and includes power boards for 7.4v and 11.1v systems.
A BEC is advised!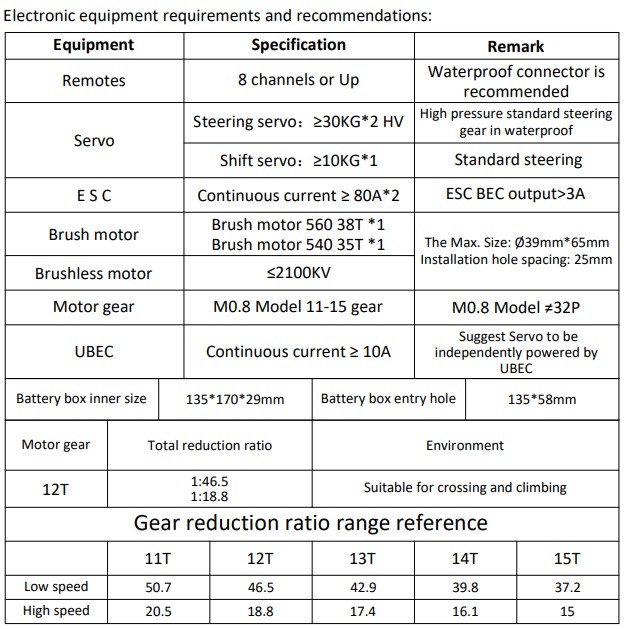 Military Scaling kit - BT8 1/12
1 999,99 €
Viewed products
MCM undertakes
Deliver within 24/48h
To send your order within 24h (on working days) (according to the limit of the available stock) & and delivered quickly.
MCM Crew
A team of specialists is at your disposal in your language (Fr, Du & En) from Tuesday till Saturday at + 32 2 376 24 05 (No. non-premium rate) from 10:00 to 18:30 or by email.
A few figures
A store of 400m² located south of Brussels open from tuesday till friday from 12.30 till 18.30 & saturday from 10.00 till 18.30.
25 years of experience.
+ 110 000 products ref.
+ 35 500 products in stock.
+ 240 distributed brands.
MCM Group, the R/C specialist since 1996
MCM Racing, MCM Skyshop, MCM Slot, MCM Marine