More info
The history of common folk owning cars is not very long. This 'weird' but efficient vehicle was a luxury only for the very rich, until the advent of mass-produced cars. These days, countries all over the world have popular affordable cars for the people. Although the original intentions of research and development vary, their common concepts are compactness, convenience and multi-functionality.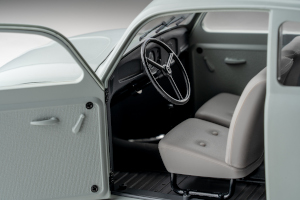 Dr. Ferdinand Porsche, the founder of the Porsche Car company, was a genius designer whose design ideas have influenced many today. He has designed the Beetle, the Elephant heavy tank destroyer, the Type82 Kübelwagen, the Type166 Schwimmwagen and Lohner-Porsche Mixed Hybrid, the world's first car powered by hub-mounted motors in the wheel. While Ferdinand Porsche was designing , Adolf Hitler was waging war across Europe and plunging the World into chaos. The fates of these two Austrians were intertwined in the 1930s, when Hitler made two promises to the German people after his election as head of the Third Reich: one was to have steak on dinner; the other was to have a car for every German family. The car had a very specific requirement, being able to carry 2 adults and 3 children at the same time, i.e. a standard German family, and travel at a speed of up to 100km/h, while selling for no more than 1000 Reichsmark.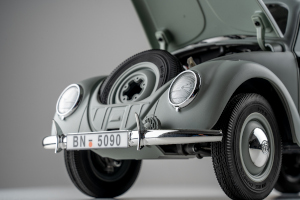 In fact, during the whole war, none of this people's cars was sold to the people, they were all being requisitioned by the army and converted into military vehicles, the most famous of which is the Kübelwagen (Released in Nov, 2021, Product No. 11241) . We feel honored if you already own it in your RC collection. If not, this car could be a great start to realistic scale RC models. The post-war civilian version was the Beetle, which later became world-famous.
Key features
Four-wheel independent suspension
Rear portal axles
Front and rear axle planetary gear differentials
Perfect restoration of Air-cooled horizontally opposed four-cylinder engine
130 motor in the cylinder
Cooling fan driven by belt
The third channel for the two-speed transmission controls
The fourth channel for switching between 4WD-RWD Mode
Servo Operated Synchronized Steering Wheel and Front Wheels
Openable doors with spring loaded latch
Realistic fabric soft rubber seats
Openable front storage compartment hatch
Openable Engine hatch
Excellent light function
Realistic tires, wheels and spare tire
Perfect for 1/12 figures
30 stainless steel ball bearings
Full metal gears
Full metal drive shaft
4CH 2.4Ghz digital proportional remote control system
Receiver / ESC two in one
Specifications
Radio Control: 118 x 73 x 145mm, 131g (Battery not Included)
Lenght: 339 mm
Width: 139mm
Weight: 723g (sans batterie)
Tires: D:58mm , L:12mm
Wheel base: 202mm
Ground clearance: 28mm
Approach Angle: 31°
Departure Angle: 26°
Driving speed: 8km/h Max
Remote distance: Approx. 60m
Approximated play time: 20 minute
Data sheet
Manufacturer :

RocHobby

Scale :

1/12

Type :

Ready to Run

Drive :

Electric (Brushed)
What you need to complete
Composition Kit
1 x 1:12 Beetle The People's Car RTR
1 x 2.4GHz Radio
1 x 2-in-1 Receiver / ESC (installed)
1 x 130 Brushed Motor (installed)
3 x 9g Plastic Digital Servo (installed)
1 x 7.4V 380 mAh Battery
1 x USB Battery Charger
1 x Hex Wrench Socket
1 x Product Manual
1/12 Beetle The people's car scaler RTR car kit
299,99 €
Viewed products
MCM undertakes
Deliver within 24/48h
To send your order within 24h (on working days) (according to the limit of the available stock) & and delivered quickly.
MCM Crew
A team of specialists is at your disposal in your language (Fr, Du & En) from Tuesday till Saturday at +33 975184596 (No. non-premium rate) from 10:00 to 18:30 or by email.
A few figures
A store of 400m² located south of Brussels open from tuesday till friday from 12.30 till 18.30 & saturday from 10.00 till 18.30.
25 years of experience.
+ 110 000 products ref.
+ 35 500 products in stock.
+ 240 distributed brands.
MCM Group, the R/C specialist since 1996
MCM Racing, MCM Skyshop, MCM Slot, MCM Marine