TRX-4 Chevrolet K10 Cheyenne High Trail Edition - Metallic Silver
More info
Lifted Off-Road Adventure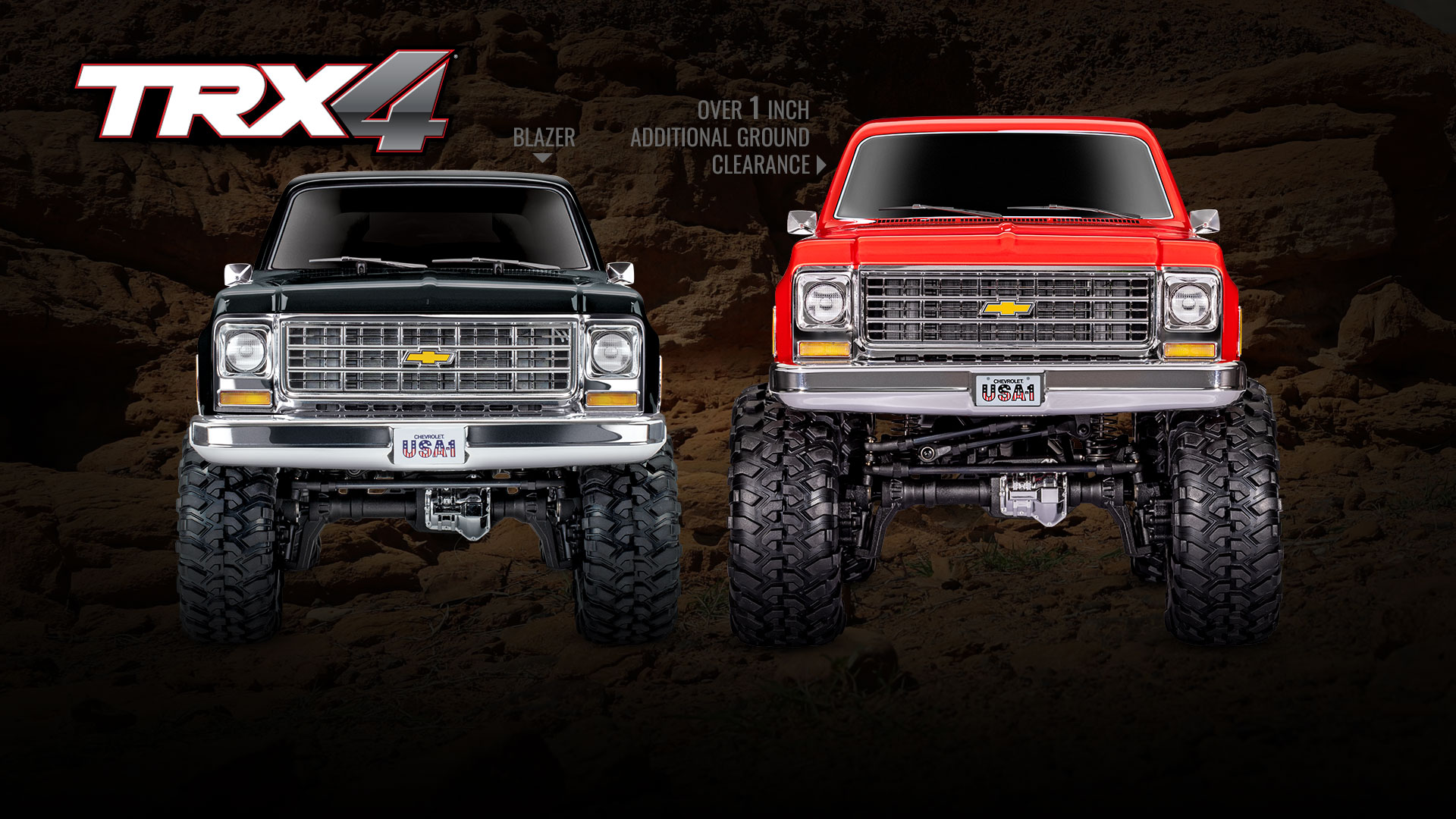 Traxxas elevates scale adventure with the lifted TRX-4® Chevrolet® K10 High Trail Edition. Thanks to its factory-installed Long Arm Lift Kit and oversize tires, the highly detailed K10 replica body stands over an inch taller than our standard TRX-4. The K10's extended wheelbase further enhances the TRX-4's already legendary off-road capability for even more fun on the trail. The TRX-4 High Trail Edition is the perfect vehicle for the driver who wants it all: extreme all-terrain capability, stunning scale looks, and Traxxas-Tough™ durability.
Molded scale details
K10 High trail edition fearutres beautiful preccision-molded details for a whole new level of scale realism. The authentic chrome wheels, side mirrors, adn windshield wipers provide the perfect scale touches.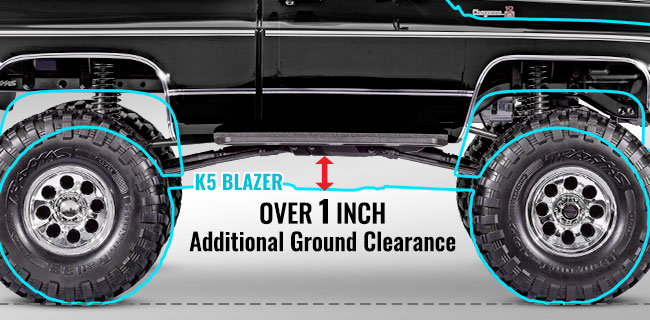 Factory-installed long arm lift kit
The traxxas Long arm lift kit includes extended GTS aluminium shocks, longer links and rod ends, extended driveshafts ant T-lock cable and a new servo mount. The lift kit works as one coherent system not only to raise the truck, but also to maintain TRX-4's carefully tuned suspension geometry.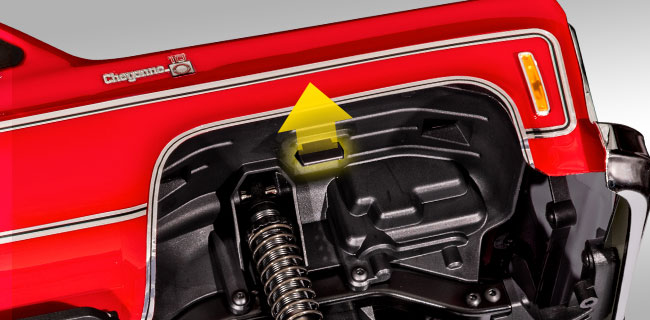 Clipless convenience
K10's heavy-duty clipless body mounts integrate into its rugged inner fenders to form a vice-like grip. When it's time to release the body, simply reach under the fender and pull the tabs. It's easy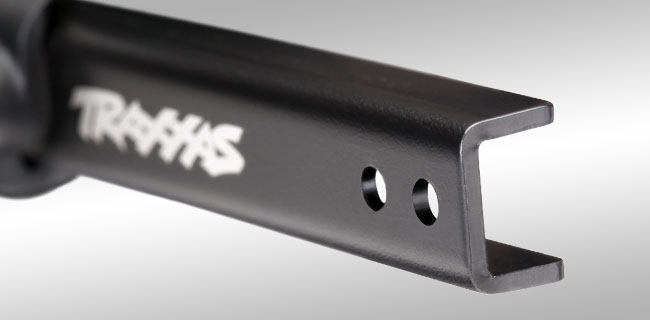 Heavy duty frame rails
A thick 1.5mm steel ladder frame with molded cross members provides exceptional torsional rigidity to resist even the worst chassis twisting articulation. This extremly ridgid backbones lets the suspension do the work it was designed to do. You'll feel the difference on trails where the eleimination of chassis flex allow for precise wheel placement when navigating technical terrain.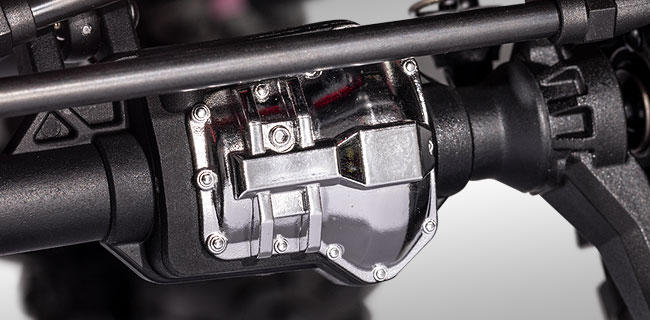 Chrome-finish differential covers
Classic style meets modern technology underneath the K10 pickup with realistic mirror chrome differential covers. These polished details take the scale look of the front and rear portal axles to the next level.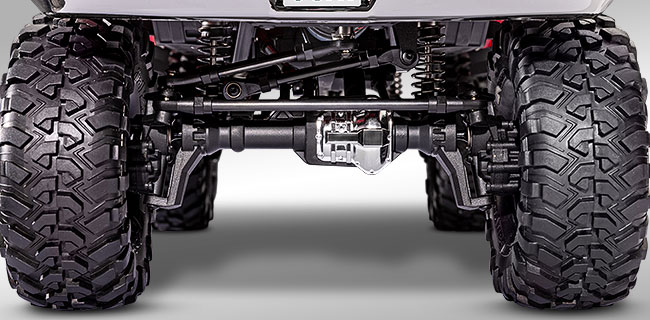 Raised center driveshafts and suspensions links
TRX-4's radical portal axle design raises the driveshafts higher to improve axle geometry and reduce driveshaft angles. Higher driveshafts and suspension links pass over obstacles to avoid high-centering your truck and reduce overall grinding wear.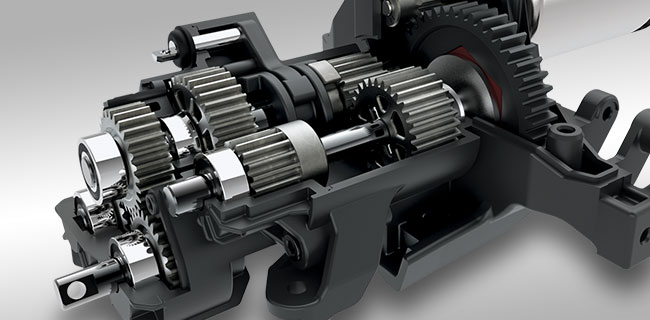 High/Low transmission
Why carry your crawler down the trail when you can drive ? K10 features a high speed gear to get you to your next crawling challenge quickly. When you get there, flip the rocker switch on your transmitter to engage low range and conquer tough terrain with exceptional torque.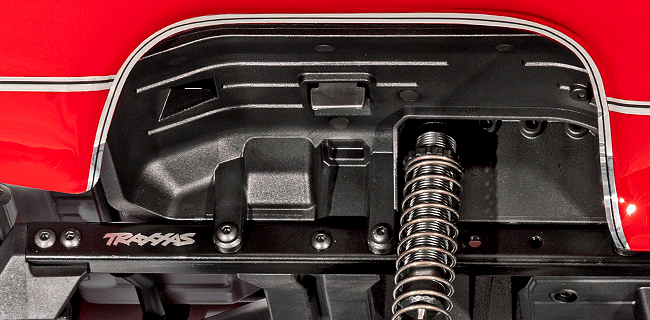 Molded inner fenders and floor pans
Tough inner fenders mount directly to the frame and shock towers to provide substantial look and feel to K10. Molded floor pans integrate into the fenders to keep rocks, mud and twigs out of the chassis.
Titan 21T 550 motor
Torque rules the trail ! TRX-4'S massive Titan 21T motor pumps out huge torue to get you up and over anything that gets in the way. An integrated cooling fan keeps temperatures down for extended run times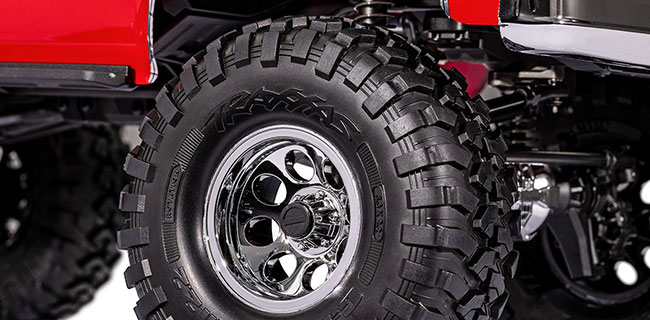 2.2" Canyon trail tires
K10 High Trail Edition rides on oversize Canyon Trail tires for additional ground clearance and rock crawling performance. The ultra soft S1 coumpound rubber and aggressive lug pattern delivers unmatched grip and rugged climbing action.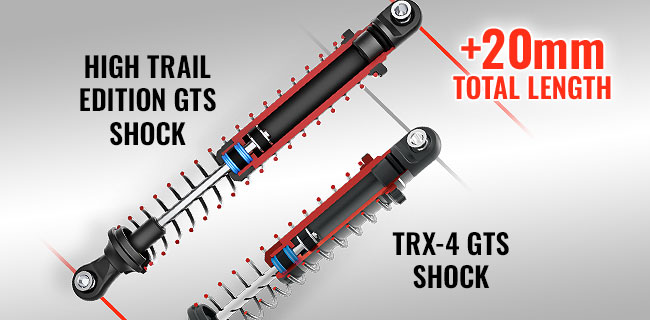 Extended-lenght 110 mm GTS shocks
K10's extra-long 110mm GTS coil-over shocks are oil-filled to smooth out even the roughest trails. These silver-anodized aluminium shocks deliver silky-smooth damping and feature threaded bodies for easy ride height adjustment. The convincing scale realism looks great and they perform even better with an O-ring cap sea and dual X-ring shaft seals.
Torque twist eliminated
On conventional rigs with the limited gear reduction in the differentials, motor torque is applied to the frame to the point of twisting you right off the rock. TRX-4's portal axle design reduces the gear ratio at the wheels, virtually eliminating torque twist trough the chassis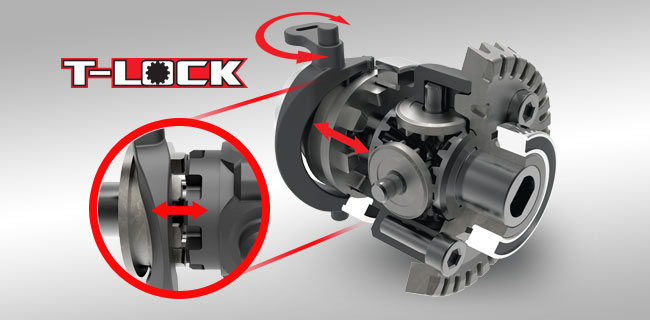 T-Lock remote locking differentials
Traxxas gives you complete control over the front and rear differentials to suit your driving needs. Leave the differentials unlocked for relaxed driving on the trail. When the trail gets technical, lock the front and rear differential, or just the front differential for superior pull and grip over extreme terrain. Sleeved micro cables control the differential action for scale appearance without limiting the huge suspension articulation.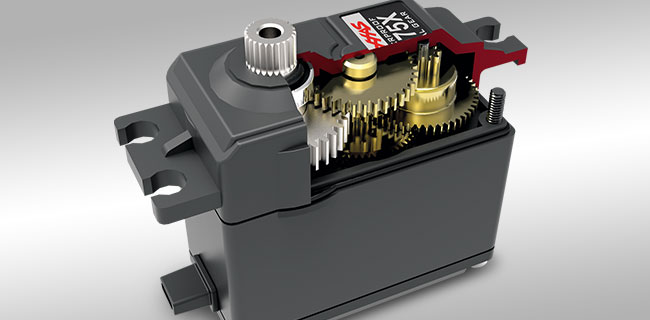 Waterproof metal gear servo
A full-metal gear digital servo gives you the durability and steering authority you need to confidently and reliably power through tough challenges.
Key features
Officially Licensed 1979 Chevrolet K10 Pickup Body

LED-ready headlights and tail lights
Authentic decal sheet

Clipless Body mounting

Clipless design for smooth body appearance
Rugged internal body cage for added rigidity

Trail-tuned

XL-5

HV Waterproof Electronic Speed Control

Fully waterproof design
Large, efficient heat sink

Motor

Powerful Titan® 21T reverse rotation motor with internal cooling fan
Precision, preset gear mesh adjustments
Motor retention separate from gear mesh

Factory-Installed Long Arm Lift Kit

Increases ground clearance over 1"
Maintains precise steering geometry
Accommodates oversize 2.2" wheels and tires
Extended Wheelbase

Long 336 mm wheelbase for improved stability
Full-length 1.5 mm steel frame rails

Portal Axles

Increase ground clearance
Eliminate torque twist
Steel gears
Improve axle geometry and reduce strain on driveshafts

Drivetrain

Full-time shaft driven 4-wheel drive
Tough 6 mm stub axles
Steel front CV driveshafts
Hardened steel rear axle shafts
Remote locking steel gear differentials with cable-actuation
Steel gear transfer case

Innovative Battery Compartment

Hinged battery strap allows quick and easy battery access
No pins to lose
Accommodates different height batteries
Integrated compartment accepts smaller 1/16 scale batteries (with optional strap)

Transmission

Two speed high/low range with remote shifting
Dual horizontal shafts
Easily removed for servicing

Steering

Chassis mounted 2075X metal gear digital servo
Superior 45° steering angle
Steering geometry corrected for bump steer
Suspension

Heavy-duty rod ends with steel hollow balls
5 mm diameter steel link rods with 4 mm threaded ends

Extended Aluminum GTS Shocks

Oil-filled coilover GTS shocks exclusive to

TRX-4

chassis
Extra-long aluminum bodies for greater articulation
Threaded bodies with collars easily adjust ride height
Silky smooth damping for the toughest trails

O-ring

cap seal and dual

X-ring

shaft seals

Oversize Wheels and Tires

2.2" 8-hole chrome mag wheels with hub inserts
Pre-mounted 2.2" Canyon Trail tires with trail-tuned foam inserts
Trail tuned S1 rubber compound
12 mm steel hex

Transmitter

TQi™ 2.4GHz 4-channel transmitter
Exclusive Cruise Control feature for extended trail driving
High 13ms frame rate and near-zero latency for responsive control

Patented

O-ring

sealed watertight receiver box keeps the micro receiver dry
Sealed Ball Bearings
Hex hardware with rust-resistant black oxide coating
Specifications
| | |
| --- | --- |
| Hex Size: | 12mm |
| Motor (electric): | 21T Reverse Rotation |
| Transmission: | 2-speed Hi-Lo, Remote Shifting |
| Gear Pitch: | 32P |
| Differential Type: | 4 Gear, Remote Locking |
| Chassis Structure / Material: | Steel Ladder Frame with Nylon Composite Crossmembers |
| Brake Type: | Electronic "Hill Hold" |
| Drive System: | Shaft Driven 4WD |
| Steering: | Chassis Mounted Servo |
| Servo: | 2075X Metal Gear |
| Transmitter: | TQi™ 2.4 GHz 4-Channel Transmitter |
| Receiver: | inclued |
| Battery Tray: | 158.75 L x 47 W x 23/26mm H |
| | |
| --- | --- |
| Length: | 22.20 inches (563mm) |
| Front Track: | 10.60 inches (270mm) |
| Rear Track: | 10.60 inches (270mm) |
| Center Ground Clearance: | 4 inches (99mm) |
| Weight (w/o battery): | 7.38lbs (3.35kg) |
| Height (overall): | 10.89 inches (277mm) |
| Wheelbase: | 13.23 inches (336mm) |
| Approach Angle: | 70° |
| Departure Angle: | 52° |
| Breakover Angle: | 67° |
| Tires: | 5.3 x 2.14 inches (135 x 54mm) |
Data sheet
Manufacturer :

Traxxas

Type de Kit :

RTR Basic

Scale :

1/10

Type :

Ready to Run Basic

Drive :

Electric (Brushed)
What you need to complete
Batteries

TRX-4 accepts a wide variety of NiMh (4-7 cell) and LiPo (2s-3s) batteries

Charger

Traxxas EZ-Peak® Live charger is recommended for easy and fast charging performance model #2971

AA Alkaline Batteries

Four AA alkaline batteries for the transmitter.
Composition Kit
TRX-4

, Ready-To-Race® model

XL-5

HV waterproof electronic speed control
Titan® 21T reverse rotation motor
TQi™ 2.4GHz radio system with cruise control
High quality maintenance tools
TRX-4 Chevrolet K10 Cheyenne High Trail Edition - Metallic Silver
629,95 €
MCM undertakes
Deliver within 24/48h
To send your order within 24h (on working days) (according to the limit of the available stock) & to deliver within 24/48h.
MCM Crew
A team of specialists is at your disposal in your language (Fr, Du & En) from Tuesday till Saturday at + 32 2 376 24 05 (No. non-premium rate) from 10:00 to 18:30 or by email.
A few figures
A store of 400m² located south of Brussels open from tuesday till friday from 12.30 till 18.30 & saturday from 10.00 till 18.30.
25 years of experience.
+ 110 000 products ref.
+ 35 500 products in stock.
+ 240 distributed brands.
MCM Group, the R/C specialist since 1996
MCM Racing, MCM Skyshop, MCM Slot, MCM Marine