More info
To create this officially licensed RC version of the TOYOTA FJ45, FMS super-finely restores the real car, and the degree of restoration is no less than that of the static model.

The hood hinge is the same living hinge as the real car, and it looks slim and beautiful on the 1/12 model car. The motor, steering servo and 2-in-1 integrated ESC / receiver are all hidden under the hood, and the battery is also here, for easy installation. The doors on both sides can be opened, the front windshield can be folded forward, if the roof is removed at the same time, it can be transformed into a convertible shape. If the screws on the slender hinges of the doors are removed, the doors can be removed, showing a more simple and wild performance. At this time, the cockpit is more transparent, the steering linkage action of steering wheel can be seen at a glance, and it is also more convenient to carry 1/12 flexible figures.

The two-speed gearbox provides powerful torque. Metal gears carry power, with bearings all over the whole vehicle, allow it moving forward slowly even if it is fully loaded with gravel. The TOYOTA logo on the rear of the car restores the stereoscopic stamping effect of the steel plate of the real car. The tailgate can be opened to load extra-long "cargo". There are two sets of taillights on the left and right of the tailgate, each set includes a turn signal, a brake light, and a reversing light. With the input of the light control button on the transmitter, the linkage effect is consistent with the driving action. The front headlights have linkage effect of far and near beam and turn signal.
TOYOTA OFFICIALLY LICENSED
Authentic TOYOTA car design in RC industry. A growing hit for those real fan who are familar with the motor corporation.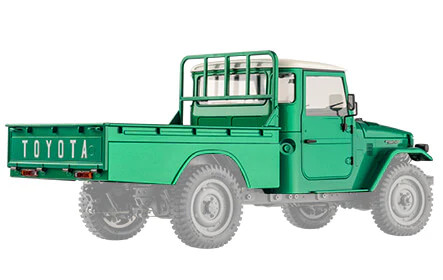 INJECTION-MOLDED HARD BODY
The car uses a hard body by injection molding technics, making it more durable and tough for crash.
TWO SPEED TRANSMISSION
The two-speed gearbox provides powerful torque.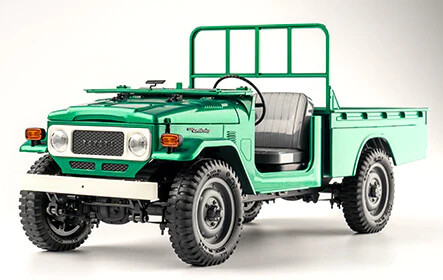 CONVERTIBLE SHAPE
The roof and the doors on both sides can be removed, the front windshield can be folded forward.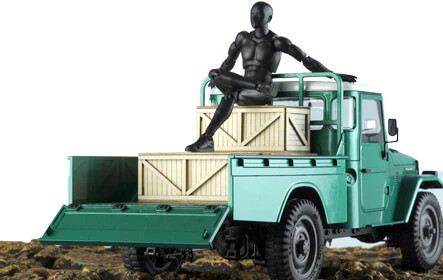 SPACIOUS CARGO BUCKET
Cargo bucket is very wide, can cope with different loads by increasing or decreasing the number of leaf springs. Tailgate can be opened.
REMOTE CONTROL LIGHTING SYSTEM
Light sets have linked light control functions with light control plug-ins including headlights, turn signals, brake lights and reverse lights.
LEAF SPRING SUSPENSION
Steel plate spring shock structure creates better climbing performance.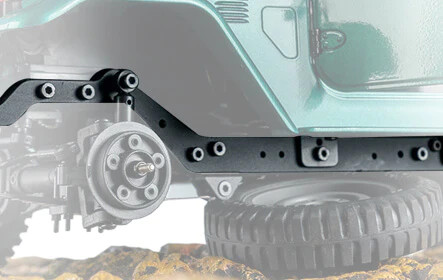 STEEL C-CHANNEL FRAME
Stolid frame chassis ensures 1:12 FJ45 is easy to conquer all kinds of complex terrain.
Key features
Ready to run model
Two speed transmission
Ball bearings full set
Polystyrene body
Nice painted body
Hood can be opened
Both side doors can be opened
Tailgate can be opened
Super exquisite interior
Steel C-channel frame
Leaf spring suspension
Remote control lighting system
180 Motor
Specifications
| | |
| --- | --- |
| Lenght: | 345 mm |
| Width: | 127 mm |
| Height: | 124 mm |
| Weight: | 601 g (without battery) |
| Wheelbase: | 270 mm |
| Wheel : | D: 60 mm / W: 15mm |
| Minimum Ground clearance: | 29 mm |
| Speed: | Max 8km/h |
| Approx. operating duration time: | 20 min |
| Remote control: | 2.4G remote control + two in one ESC receiver |
Data sheet
Manufacturer :

FMS

Scale :

1/12

Type :

Ready to Run

Drive :

Electric (Brushed)
What you need to complete
4 x AAA Batteries for Transmitter
Composition Kit
1 x 1:12 TOYOTA FJ45 RTR
1 x 2.4G Transmitter
1 x 2-in-1 Receiver (installed)
1 x 180 Brushed Motor (installed)
1 x 9g Plastic Digital Servo (installed)
1 x 2S 7.4V 380mAh Battery
1 x USB Charger
1 x Hex Wrench Socket
1 x Product Manual
1/12 TOYOTA FJ45 scaler RTR car kit - Yellow
299,99 €
Viewed products
MCM undertakes
Deliver within 24/48h
To send your order within 24h (on working days) (according to the limit of the available stock) & and delivered quickly.
MCM Crew
A team of specialists is at your disposal in your language (Fr, Du & En) from Tuesday till Saturday at +33 975184596 (No. non-premium rate) from 10:00 to 18:30 or by email.
A few figures
A store of 400m² located south of Brussels open from tuesday till friday from 12.30 till 18.30 & saturday from 10.00 till 18.30.
25 years of experience.
+ 110 000 products ref.
+ 35 500 products in stock.
+ 240 distributed brands.
MCM Group, the R/C specialist since 1996
MCM Racing, MCM Skyshop, MCM Slot, MCM Marine