1/10 Toyota Land cruiser FJ40 scaler ARTR kit (RS version) - Yellow
More info
The most popular of the 40 series is the single-row two-door car
The Toyota Land Cruiser is a popular line of four-wheel drive vehicles produced by the Japanese automaker Toyota Motor Corporation. The Land Cruiser is a Toyota Jeep-like vehicle that was first designed in 1951, with production starting in 1954. There are folding soft roofs, hard roofs, station wagons and utility vehicles. In many places, the term "Land Cruiser" has even become a generic term for off-road vehicles. The earliest Toyota off-road vehicle was called the BJ, because it used a 75 HP Type B 3.4-liter engine. When the Type F 3.8-liter engine replaced the Type B, the FJ was born. FJ means a jeep equipped with a Type F engine.
Toyota FJ40 is the collective name for the Toyota Land Cruiser 40 series produced from 1960 to 1984. Roughly
divided into BJ40/41/42 (short wheelbase), BJ43/44/46 (middle wheelbase) and HJ45/47 (long wheelbase).

As a well-known model all over the world, it has legendary status among off-road enthusiasts and is a classic that collectors flock to. In competition with other world-renowned off-road models of the same period, like CJ, Defender, Bronco and Scout, it has never fallen behind.

This 1/10 remote control climbing vehicle FJ40 presented by FMS uses an ABS hard body to accurately restore the shape and details of the real vehicle. The left and right doors can be opened, and the door hinge adopts the same metal hinge structure as the real car. The roof can be removed and transformed into a compact pick-up. The hood can be opened, and hidden below are the 35T 550 motor, high-quality brushed ESC and receiver.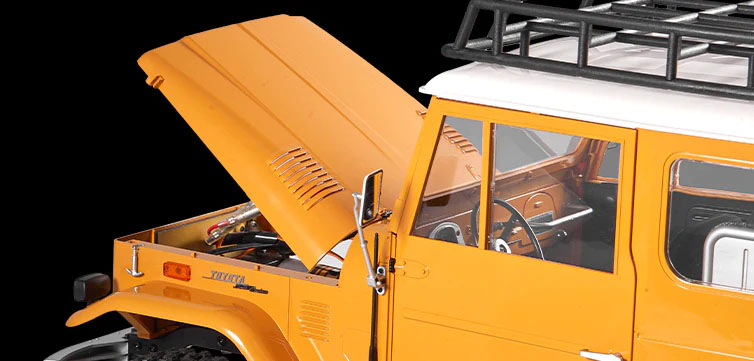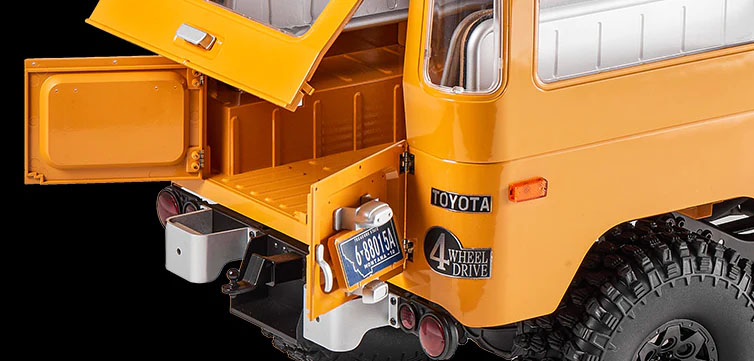 The design of the front soft rubber seat can accommodate two dolls, which not only increases the playability of the model, but also creates more space for interaction and imagination, making every driving a fun and creative adventure.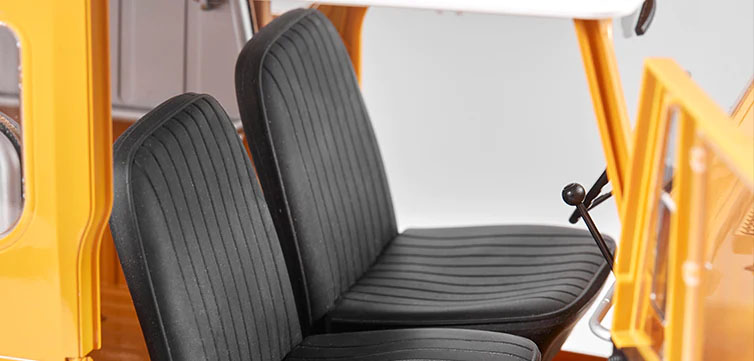 Powerful Brushed Motor & ESC
Hold on to your hats! with the powerful combination of a high-torque 35T 550 brushed motor and 40A ESC, the FCJ40 rides like a beast over rocks on the open road.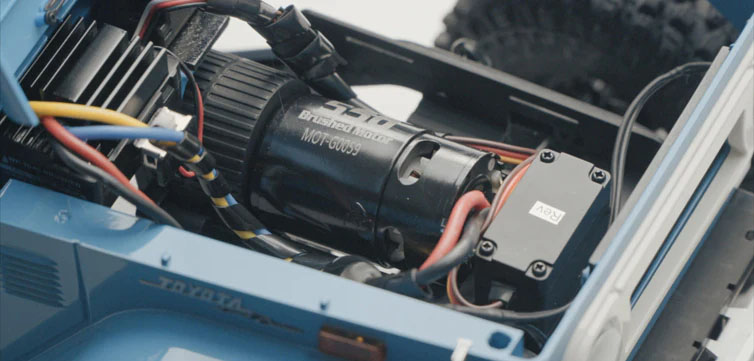 1.9" climbing tires allow for good grip on all terrains. The four-link suspension system ensures a larger shock absorber stroke and better passability. Metal trapezoidal beams provide a solid supportive structure. Even with the ABS hard body and full interior, the vehicle can easily overcome extreme road conditions.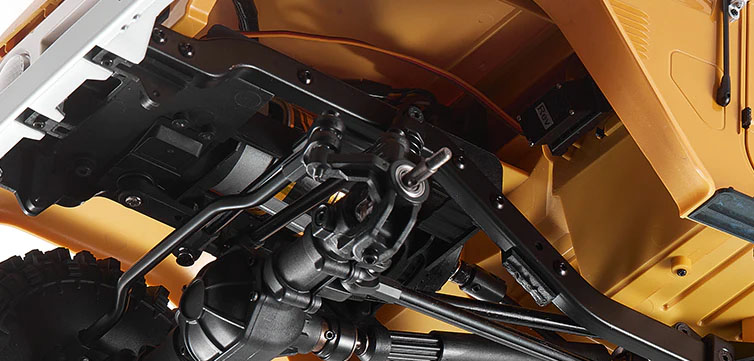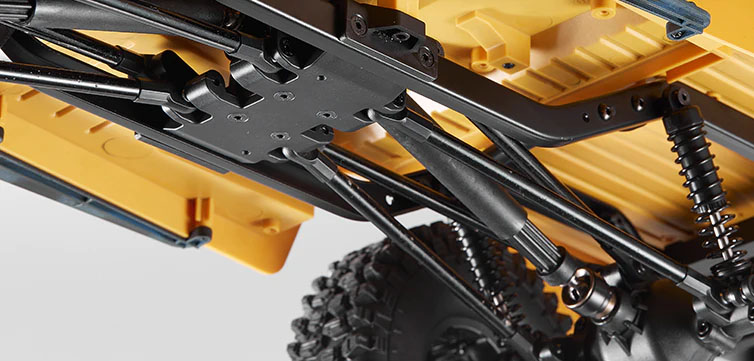 Sensitive Remote Control
it adopts an advanced 2.4G remote control and a 4—channel receiver, which can provide a more stable and accurate remote control experience.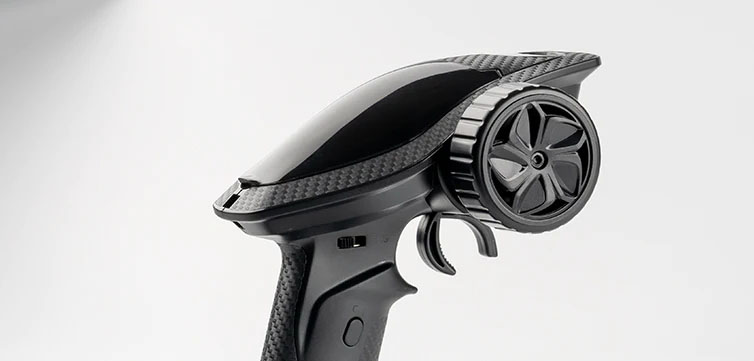 The real FJ40 uses leaf spring suspension. For those who pursue extreme simulation, the chassis can be installed with leaf spring suspension (sold separately) to restore the style of the real vehicle.
Pursuing the needs of climbing performance and restoration seems to be impossible, but through the compatible design of the chassis and the replacement of a few accessories, it can take on a completely different shape.
Two postures, and double the fun.
Key features
Ready set
Ball bearings full set
Hard body
Hood can be opened
Both side doors can be opened
Tailgate can be opened
Super exquisite interior
Soft rubber seat
Steel c-channel frame
Four link suspension
Leaf spring suspension (sold separately)
1.9-inch at tire
35t 550 motor
Specifications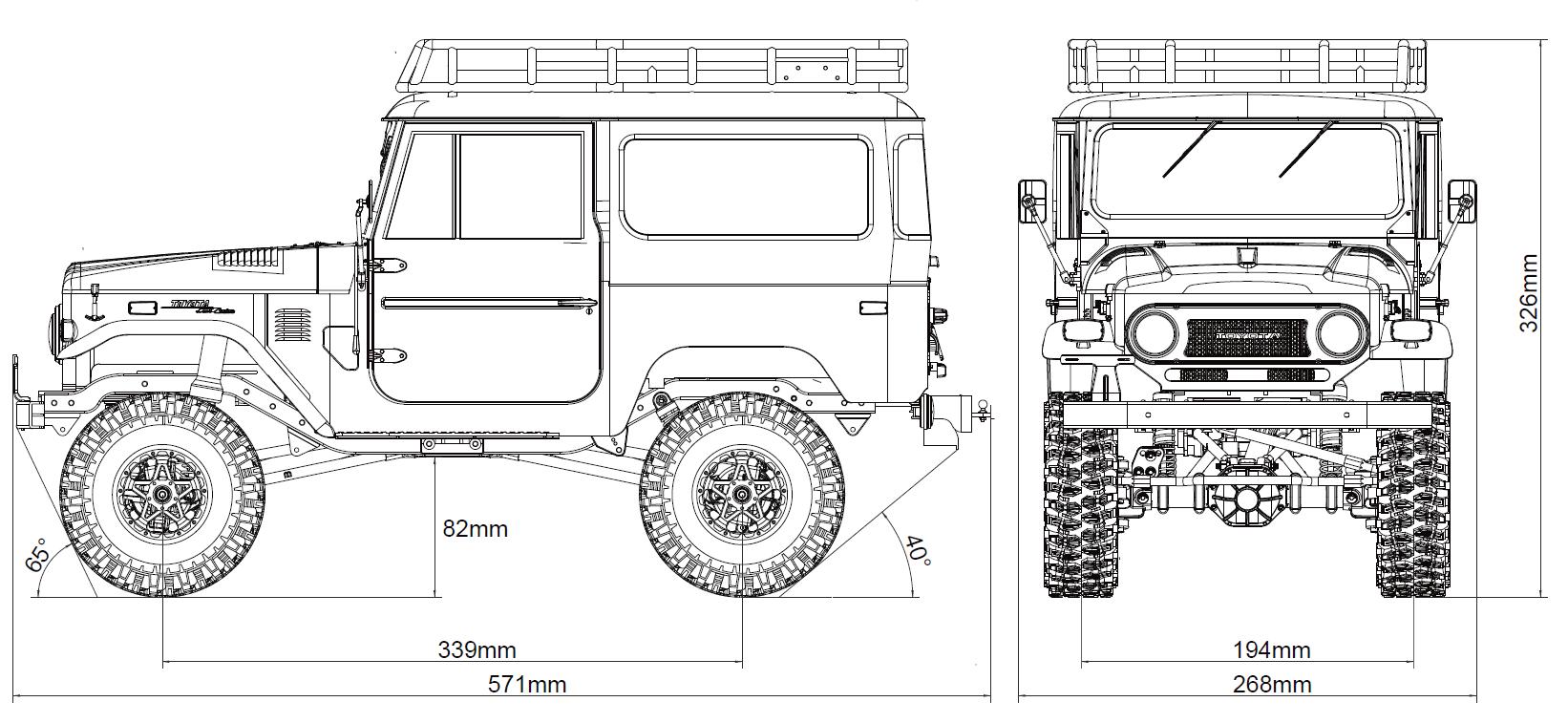 Length:571mm
Width:268mm
Height:326mm
Wheelbase:339mm
Tire F/R :Φ 115mm
Approach Angle:65°
Departure Angle:40°
Ground Clearance: 82mm
Motor: 35T 550 Brushed motor
Remote control distance: 80m
Remote control: 2.4GHz Transmitter (Fibre Style) & Receiver Set
Data sheet
Manufacturer :

FMS

Level of difficulty (1 to 3) :

1

Type de Kit :

RTR

Scale :

1/10

Type :

Ready to Run

Drive :

Electric (Brushed)
1/10 Toyota Land cruiser FJ40 scaler ARTR kit (RS version) - Yellow
379,99 €
MCM undertakes
Deliver within 24/48h
To send your order within 24h (on working days) (according to the limit of the available stock) & and delivered quickly.
MCM Crew
A team of specialists is at your disposal in your language (Fr, Du & En) from Tuesday till Saturday at +33 975184596 (No. non-premium rate) from 10:00 to 18:30 or by email.
A few figures
A store of 400m² located south of Brussels open from tuesday till friday from 12.30 till 18.30 & saturday from 10.00 till 18.30.
25 years of experience.
+ 110 000 products ref.
+ 35 500 products in stock.
+ 240 distributed brands.
MCM Group, the R/C specialist since 1996
MCM Racing, MCM Skyshop, MCM Slot, MCM Marine