DISC.. Crawling kit - XC6-A 1/12 truck 6X6 normal version
More info
This is a real nice example of a 6x6 military truck kit 1/12 scale 6x6 supplied with Black beadlock wheels with steel beadlock rings and scale soft compound scale truck tyres 108mm dia.Comes with 35t crawler motor and full led lighting system and many scale details. This model can also be fitted with the Cross-rc Sk-1 truck sound system.Requires a 3rd proportional or 3 way switch channel to start stop engine and sound horn.
Minimum 2 channel radio required.
Key features
Assembled axles
Assembled gearbox with installed motor
Assembled wheels/tires
Assembled damper units
LED light set included - works with most modern radio gear
Includes detailed illustrated instruction manual with Chinese text
Cab body is one piece molded
Specifications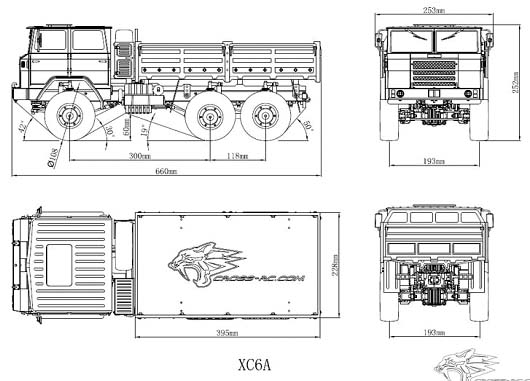 Data sheet
Manufacturer :

Cross-RC

Level of difficulty (1 to 3) :

2

Scale :

1/12

Type :

To build
What you need to complete
Radio Gear with receiver and servo, 4-channels recommended
Electronic Speed Controller
Loudspeaker/sounds optional (not included).
Battery: 6-cell flat with standard Tamiya connector or equivalent
Charger: suitable for above battery
Tools and paints to complete r/c model
DISC.. Crawling kit - XC6-A 1/12 truck 6X6 normal version
562,39 €
Viewed products
MCM undertakes
Deliver within 24/48h
To send your order within 24h (on working days) (according to the limit of the available stock) & to deliver within 24/48h.
MCM Crew
A team of specialists is at your disposal in your language (Fr, Du & En) from Tuesday till Saturday at + 32 2 376 24 05 (No. non-premium rate) from 10:00 to 18:30 or by email.
A few figures
A store of 400m² located south of Brussels.
23 years of experience.
+ 110 000 products ref.
+ 35 500 products in stock.
+ 240 distributed brands.
MCM Group, the R/C specialist since 1996
MCM Racing, MCM Skyshop, MCM Slot, MCM Marine