1/10 GS01 SAWBACK 4LS SCALE CRAWLER KIT
More info
GS01 chassis
1/10 th SCALE
4 LINK SUSPENSION
4 WHEEL DRIVE
READY TO ASSEMBLE R/C MODEL KIT
STEEL LADDER FRAME
GS01 frame is designed to look as a chassis of a real car frame and the material of the frame is made of high strength Steel, C-channel side rail and is bolted with cross members, which make it résistant to twisting or warping. Also, Steel parts are nickel plated to look glossy and prevent rust.
DUST PROOF RECEIVER BOX
Receiver box is designed to look as a real engine cover and the function of the receiver box is to protect the receiver from getting dusty and also to be used as ESC mounting space.
ADJUSTABLE BATTERY PLATE
Battery plate is designed to offer the lowest center gravity of châssis for stable driving motion, Adjustable plate helps to mount a different type of batteries.
SKID PLATE
The skid plates are désigned to run smoothly over any surface of roads without getting stuck.
4-LINK SUSPENSION SYSTEM
The suspension has been design to reduce the torque twisting and make smooth movements. Together with oil shock, showing high driving performance in ail terrain such as mud, rock, hill and etc. and with that impact stable running is possible to help délicate controlling.
XD AERATION 93mm SHOCK ABSORBER
This XD aeration shock is a coil over shock which will perfectly feature in off-road driving.
GS-01 4 link suspension with XD aération shock will provide maximum wheel travel and smooth suspension movements.
The shock oil inside of the shock body will prevent the popping motions during driving on rough surfaces, and keep the car stable in off-road driving.
CNC machined aluminum shock bodies and 3.5mm heavy duty shock shafts provide high-durability in rough course driving.
Possible to change the car setup easily and quickly when changing driving situations.
Simple to change the rebound without disassembling the shock cap by using the aération shock cap screw, and it's also simple to setup the ride height by using adjustable nut for different driving situations.
ONE-PIECE GRAPHITE AXLE HOUSING
Axle housing is made of high strength plastic material and designed as a one-piece for maximum durability and easy maintenance.
METAL DIFFERENTIAL COVER
The Axle has been designed to feel as a real car axle and glossy métal differential cover highlights more details.
SOLID DIFFERENTIAL GEAR
Both front and rear axles hâve solid differential gears to provide stronger driving force in any driving conditions.
DUST PROOF TRANSMISSION
Various gear ratio in ail situation increases the vehicle's driving ability and transmission housing protects the internai gears with superb dustproof functionality. Easy to adjust the gear ratio and the backlash by using removable dust cover.
BALL BEARING
Included Bail bearings in every rolling components minimize the load on drive train as well as conveying the driving force smoothly.
UNIVERSAL SHAFT
Universal shafts are designed to convey maximum torque of powerful motor as well as tire tractions through locked differentials that also respond to perfectly smooth motion without loss of power to the front & rear axles.
MT-1903 1.9 INCH M/T OFF-ROAD TIRE
MT 1903 off-road tire made of super soft compound material provides high traction to the surface.
The treads of tire pattern are suitable for off-road driving and are designed with large diameter that enables to run smoothly on any uneven road surface.
SPEC
Tire Height: 109mm (4.3")
Tire Width: 40mm (1.6")
Inner Diameter: 48mm (1.9")
NR01 1.9 INCH BEADLOCK WHEEL
NR01 beadlock wheels made of material of high strength plastic give long-lasting strength and its design generates realistic scale look of the vehicle.
SPEC
Width : 22mm
Diameter : 48mm (1.9inch)
Offset : Zéro offset
Hex mount : 12mm
SAWBACK 4LS LEXAN BODY
Sawback 4LS body has been made of high quality lexan and finished with a design of "No Top" stylish body.
TUBE BUMPER
The front tube bumper is designed to wrap the whole front part of the vehicle to perfectly protect the vehicle from external shocks.
The bumper is made of durable reinforced composite plastic also designed for obtain the maximum angle of approach to the car, so it shows high driving performance on rough terrain.
Adjusting of bumper by using multi-mounting hole can make it possible to change the body position and length.
Mounting holes for fog LED light are provided so it is possible to equip the fog lamps to secure visibility when driving at night.
Aluminum skid plate can be attached for further enhance durability and driving performance.
ROLLBAR & INTERIOR PARTS
Rollbar is made of very stomg high-strength plastic material and it finished out with stylish off-road looking. accessories of realistic look include decal, driver seats, steering wheel, shifter, mirror, windshield plastic parts to this body set that highlight the quality of the body shape.
Specifications
Width : 234mm
Height : 255mm
Length : 463mm
Wheel base : 287mm
Ground clearance : 68mm
Weight (no electronics) : 1.7 kg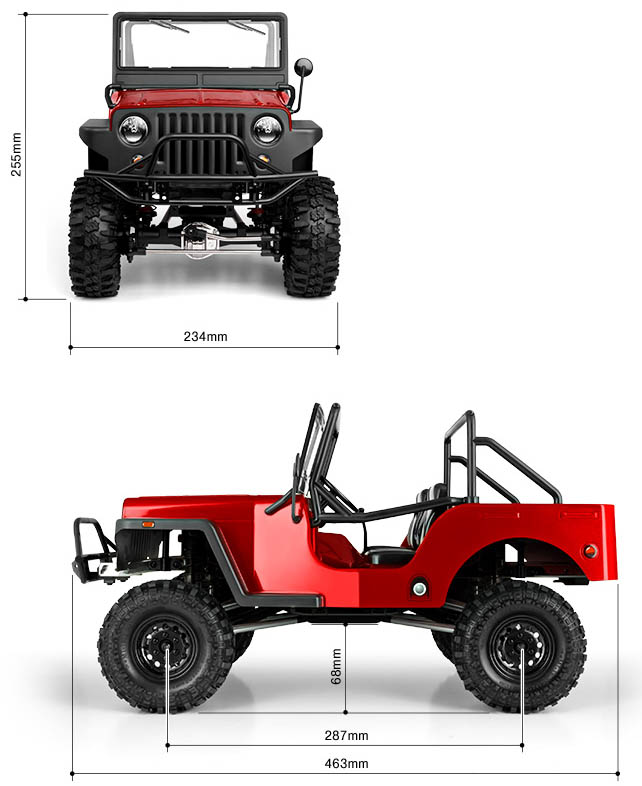 Data sheet
Manufacturer :

G-Made

Level of difficulty (1 to 3) :

2

Scale :

1/10

Type :

To build
1/10 GS01 SAWBACK 4LS SCALE CRAWLER KIT
319,99 €
Viewed products
MCM undertakes
Deliver within 24/48h
To send your order within 24h (on working days) (according to the limit of the available stock) & to deliver within 24/48h.
MCM Crew
A team of specialists is at your disposal in your language (Fr, Du & En) from Tuesday till Saturday at + 32 2 376 24 05 (No. non-premium rate) from 10:00 to 18:30 or by email.
A few figures
A store of 400m² located south of Brussels.
23 years of experience.
+ 110 000 products ref.
+ 35 500 products in stock.
+ 240 distributed brands.
MCM Group, the R/C specialist since 1996
MCM Racing, MCM Skyshop, MCM Slot, MCM Marine